Bolna Sakdina by Prabin Bajracharya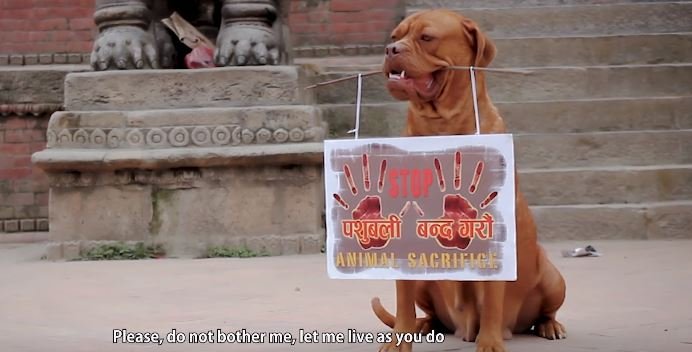 Bolna Sakdina is a new Nepali informative song by Prabin Bajracharya. The music video features Devil and Angel (Dogs). Bolna Sakdina is a modern informative song directed by Nabin K Shrestha (Mero Kipa). This music video was edited by Gamvir Rajkarnikar and was cinematographed by Nabin K Shrestha.
The music for the song was composed by Kalyan Singh and lyrics was written by Dr. Sunil Sapkota. The music video able to grow up the voice of animal who are eaten in the name of meat. In this music video, love towards of animals towards their child has compare to the love that you give to your children. The pain is as same as you get hurt. Please avoid the animals scarifies ans save the animals around us. The music video was arranged by Pradeep Joshi. When you once listen this song, I am sure you will keep chanting it.
The music video is released officially online by Budha Subba Digital Pvt Ltd via Youtube. Hope that you will enjoy this melodious song Bolna Sakdina.

Here is the lyrics for Bolna Sakdina:
Bolna sakdina bahnera
Katyau timile malae
Retyau timile malae
Danchinkali ma rujhae rujhae
Bhagwan lai khusi parna
Khayau malae bolna
Sakdina bhanera…..

Ragatai ragat le
Bhijhayau Gadimae
Ustai theyo mero ragat
Baglun kali ma
Timi maanab hau re
Sansar ko bhantheya
Luchi luchi khayau malae
Bhokal name ma malae
Bolna sakdina bhanera…..

Dhunga ragat le
Bhijhayera bhagwan
Lhusi hune bhaye
Jhudayera sir goru ko
Timi khusi hune bhaye
Mari dau kati deu
Hami sabai lai
Timi khusi hune bhayau
Ustai ho ragat
Chauri ko mustang
Ma piuna jasto
Ustai ho maya timile jasto
Dhukhae ustai ho timilai
Dhukhane jastai binti dhukhana
Na dau bachana dau
Timi jastai bolna sakdina bhanera………..