Botal Ko Jhol by Nirmal Bastola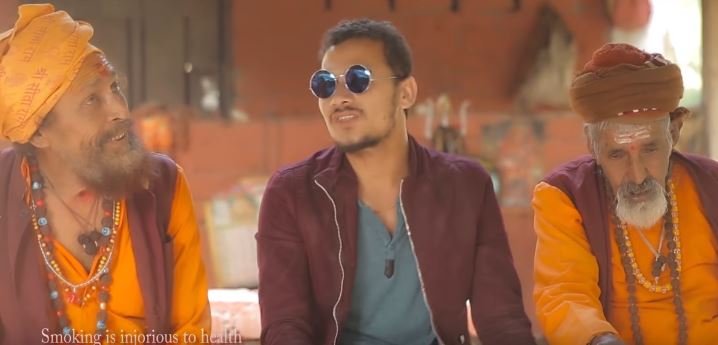 Botal ko Jhol  is a New Aadhunik Nepali Romantic pop song by Nirmal Bastola. The music video features model are Jojo, Subash, Panthang, Biswash, Ajay, Akash, Ramesh and Babesh. Botal ko Jhol is a Nepali song by Nirmal Bastola which is directed by Rijal Tilak. Botal ko Jhol Music video is edited by Tilak Rijal.
The music video of this song is arranged by Dev Lawar and lyrics was given by Nirmal Bastola himself. The music video is based on smoking. Nirmal Bastola is known as a versatile singer in the Nepali music Industry. He explain that smoking gajha is better than drinking alcohol. But we should remind that Smoking and drinking Alcohol is injurious to our Health. When you once listen this song, I am sure you will keep repeating it.
The music video is released officially online by SongsNepal via Youtube. Hope that you will enjoy this Melodious Sentimental pop Song Botal ko Jhol.

Here is the lyrics for the song:
Botal ko Jhol
Khanu Bhanda
Chilim tana ramro
Aka chilim tanna satha
Sabai kti ramro
Ho ki haina ho
Haina bhanna ko
Aru deva ko bhanda
Shiva ko prasad ramro
16 Pugi 17 lagda
Chakai chutti ramro
Ramri jati hamro
Ho ki haina ho
Haina bhanna ko
Aru deva ko bhanda
Shiva ko prasad ramro
Aru deva ko bhanda
Shiva ko prasad ramro
Jun ko charjai ramro…

Kasko chora
Kasko nati
Gajha tanna
Mero Sathi

Kasko chora
Kasko nati
Gajha tanna
Mero Sathi
Bhagi bhagi
Girlfriend vetna
Janthim hami rati rati
Ho ki haina ho
Haina bhanna ko
Aru deva ko bhanda
Shiva ko prasad ramro
Aru deva ko bhanda
Shiva ko prasad ramro
Jun ko charjai ramro…

Ramrai Kti
Dhekha nai hunna
Herchau Aakha Tani

Ramrai Kti
Dhekha nai hunna
Herchau Aakha Tani
Handsome kta dhekhana
Sathai maskina
Tyo bani
TImro maskina
Tyo bani
maskina
Tyo bani
Chau ma ae
Basi dauna
Meri dil ko rani
Meri dil ko rani
Sabai bhanda babal mero

Sabai bhanda babal mero
Chilim tanna bani
Chilim tanna bani
Botal ko Jhol
Khanu Bhanda
Chilim tana ramro
Aka chilim tanna satha
Sabai kti ramro
Jun ko charjai ramro
Jun ko charjai ramro
16 Pugi 17 lagda
Praya kti ramro
Ramri jati hamro
Ho ki haina ho
Haina bhanna ko
Aru deva ko bhanda
Shiva ko prasad ramro
Aru deva ko bhanda
Shiva ko prasad ramro
Jun ko charjai ramro…