Chautariko Basai by Chandra Subba Ft. Keki Adhikari & Gambhir Bista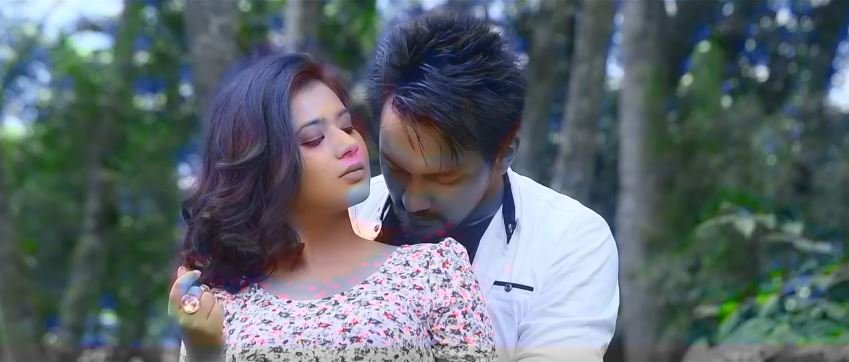 Chautariko basae is a New Aadhunik Nepali Melodious Lok pop song by Chandra Subba. The music video features Gambhir Bista and Keki Adhikari. Chautariko basae is a Nepali song by Chandra Subba which is directed by Utsav Dahal. Chautariko basae music video was edited by Nishan Ghimire.
The music of this song is composed by Shanti Ram Rai and lyrics was given by Sarita Rai. The music video is featuring by versatile actress Keki Adhikari. She is also known as Queen of music video of Nepal. She has appeared in numerous music videos, television commercials, print ads and more than a dozen of Nepali movies. In this music video, Keki Adhikari Maya was mitho due to love of Gambhir Bista.
The music video is released officially online by DUSH Music via Youtube. Hope that you will enjoy this Melodious pop Song Chautariko basae.

Here is the lyrics for the song:
Chautariko basae
Mitho bar ko
Chhaya la

Chautariko basae
Mitho bar ko
Chhaya la
Yo mann mero
Chan chal vayo
Timi auna la
Yo mann mero
Chan chal vayo
Timi auna la
Yo mann mero
Chan chal vayo
Timi auna la
Chautariko basae
Mitho bar ko
Chhaya la
Chautariko basae
Mitho bar ko
Chhaya la….

Bihani ko
Jhulka gham ma
Himala ko chhaya
Himala ko chhaya

hooo
Bihani ko
Jhulka gham ma
Himala ko chhaya
Himala ko chhaya
Unakai aakha mohani
Basyo mannai ma
Unakai aakha mohani
Basyo mannai ma
Gham pani ko
Satha mitho
Indrani ko chhaya la
Yo mann mero
Chan chal vayo
Timi auna la
Chautariko basae
Mitho bar ko
Chhaya la
Chautariko basae
Mitho bar ko
Chhaya la…

Basanta ko
Ritu sagai
Ranghin huna maya
Ranghin huna maya

Basanta ko
Ritu sagai
Ranghin huna maya
Ranghin huna maya
Aakasha jasto pharakilo
Mayalu ko chhaya
Aakasha jasto pharakilo
Mayalu ko chhaya
Maya hamro sangai bhayo
Deurali bhakna la
Yo mann mero
Chan chal vayo
Timi auna la
Chautariko basae
Mitho bar ko
Chhaya la
Chautariko basae
Mitho bar ko
Chhaya la
Chautariko basae
Mitho bar ko
Chhaya la
Chautariko basae
Mitho bar ko
Chhaya la……