Chokho Maya by Swaroop Raj Acharya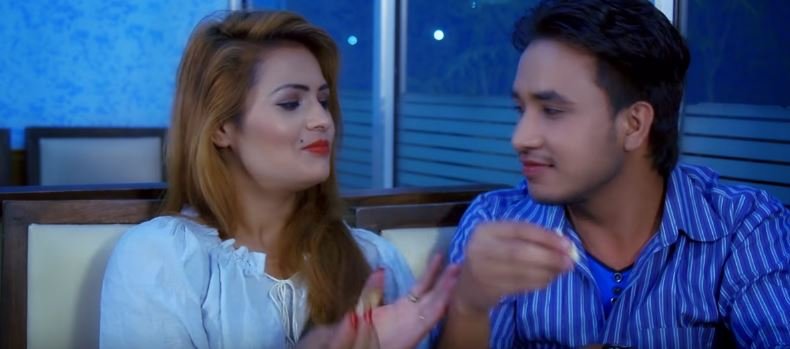 Chokho Maya is a new melodious modern song by Swaroop Raj Acharya. The music video features Surya, Roji, Bandre, Shiva and Suprim. Chokho Maya is a Nepali song by Swaroop Raj Acharya which is directed by Suraj Chapagain (Bandre). This music video was edited by Amrit Chapagain and music video was cinematographed by Resham Darlami.
The music for this song is composed by Sanam Rai and lyrics was written by Surya Shrestha. Swaroop Raj Acharya was a playback singer. He has given his Melodious voice for many films and Nepali melodious songs. This is heart touching modern song. In this music video, you will get to see the pain which is causes by love. This music video was post production by Suprim Films Pvt. Ltd. This song teaches us that do not lie to people who trust you, and don't trust people that lie to you. When you once listen this song, I am sure you will keep repeating it.
The music video is released officially online by SongsNepal via Youtube. Hope that you will enjoy this melodious aadhunik song Chokho Maya.

Here is the lyrics for Chokho Maya:
Chokho maya dida pani
Aakha bhari ashu diyau
Jiban bhari roerahe
Jiban bhari roerahe
Kun juni ko bhadala liyau
Chokho maya dida pani……

Sansara ma timi matrai
Afno bhanne lagtheyo malae

Sansara ma timi matrai
Afno bhanne lagtheyo malae
Timile nai dhoka diyau
Aba Afno thanu kaslai
Timile nai dhoka diyau
Aba Afno thanu kaslai
tai karan le dukhachha
Mutu timro yadma ghari ghari
Moti jastai mero ashu
Bagchhan pani sari
Chokho maya dida pani…….

Mero lasma seto katro
Timro sirma rato huntheyo

Mero lasma seto katro
Timro sirma rato huntheyo
Chakhawa ko jodi bhantha
Khola pani bagirantho
Chakhawa ko jodi bhantha
Khola pani bagirantho
Majale ko kharani le
Timro siudo rangiyos
Yata malie shrada anjali
Uta timi lai badhai milos
Chokho maya dida pani…………