Dhaka Kai Choli From Movie LEELA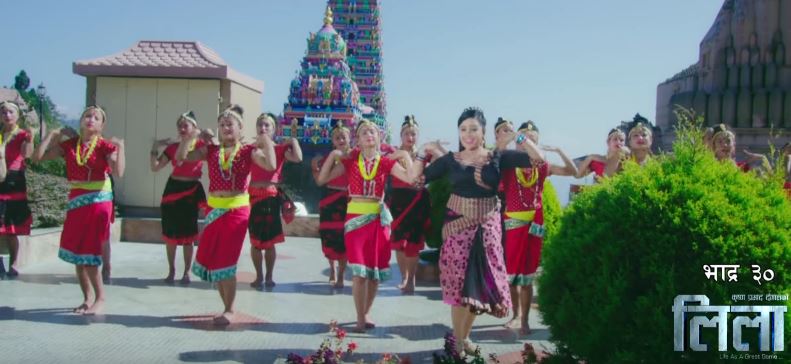 Dhaka Kai Choli is a new Nepali lok pop song from the Nepali movie "LEELA". Dhaka Kai Choli is a Nepali movie song by Anju Pant and Sachin Rai which is directed by Ramesh Koirala. Dhaka Kai Choli music video was edited by Subash Devkota and music video was cinematographed by Shiva Dhakal.
The instrumental composition for this music video was done by Ramesh Khadka and lyrics of this song was written by Laxman Basnet. Dhaka Kai Choli is a melodious song by Anju Panta. She is one of the famous, talented and versatile singer of Nepal. Anju Panta has given her voice in more than hundreds of hit songs. Her melodious voice adds flavor in every song she sings. Dhaka Kai Choli music video is a romantic song from movie "LEELA". LEELA is a first Nepali movie which is based on information technology. Dhaka Kai Choli  music video was choreographed by Kamal Rai and music video was presented by Cine Darpan Entertainments. Hope that the melodious voice of Anju panta may attract you to watch this music video again and again. And also I am sure you will not forget to like and share this music video with everyone.
The music video is released officially online by Budha Subba Digital Pvt Ltd via Youtube. Hope that you will enjoy this melodious lok pop song Dhaka Kai Choli.

Here is the lyrics of Dhaka Kai Choli:
Dhaka kai choil ma
Dhaka kai patuki
Dhaka kai choil ma
Dhaka kai patuki
Kya sarai ramri bhaki
Jowan satau ki
Hey Jowan satau ki
Dhaka kai topi ma
Dhaka kai galbandi
Dhaka kai topi ma
Dhaka kai galbandi
Sangyog le bhet bhayo
Nagara gal pati
hooo Nagara gal pati…………