Dharanko Puranobazarma by Babin Limbu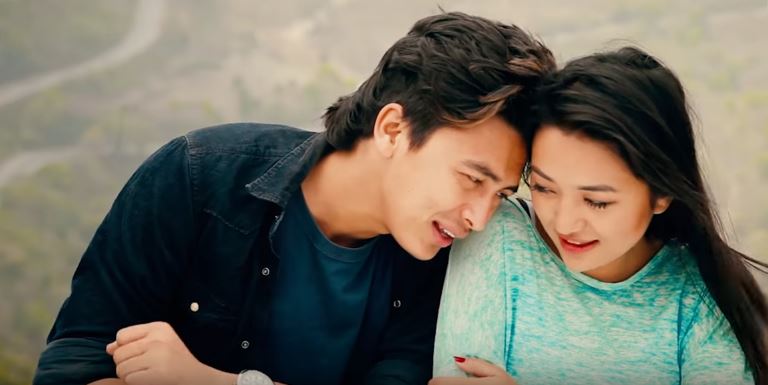 Dharanko Puranobazarma is a Superhit Aadhunik Romantic Nepali pop song from Album "Dharanko Puranobazarma". The music video features actor and actress are Paul Shah, Alisha Rai, Roshan Shrestha, Nilam Thapa & Hem Subba. Dharanko Puranobazarma is a Nepali song by Babin Limbu which is directed by Namit Chand Thakuri. Dharanko Puranobazarma music video was edited by Rupesh Khadka and music video was cinematographed by Roshan Shrestha.
The music video of this song is arranged by Udayaraj Paudel and lyrics was written by Suresh Gandarbha. The music video is featuring by versatile actor Paul Shah with a new looks. He has appeared in numerous music videos, television commercials, print ads and more than a dozen of Nepali movies. Dharanko Puranobazarma is a romantic song in which we can see the Paul Shah and Alisha Rai as a love bird in this song. This song express the beauty of Dharan bazar which lies in sunsari district of Nepal. Dharanko Puranobazarma is a most views song of year 2016.  When you once listen this song, I am sure you will keep repeating it.
The music video is released officially online by Silver Entertainment via Youtube. Hope that you will enjoy this Melodious Song Dharanko Puranobazarma.

Here is the lyrics for the song:
Dharan ko Purano bazar ma
Thi baini lai chine theyau
Kaela kae bhet huda maya
Ko koseli diya theyau
Dharan ko Purano bazar ma
Thi baini lai chine theyau
Kaela kae bhet huda maya
Ko koseli diya theyau
Chauma huda lajhau chau
Tadha ma huda muskinchau
Chauma huda lajhau chau
Tadha ma huda muskinchau
Dharan ko Purano bazar ma…

Mathilo chowk ma hami jadha
Dui baini sarai ramau thi
Aru la jiskauda risau thi
Hami la jiskauda ramau thi
Mathilo chowk ma hami jadha
Dui baini sarai ramau thi
Aru la jiskauda risau thi
Hami la jiskauda ramau thi
Hami saga jane bhaya sacho cha
Aama lai bhuhari ko khacho cha
Hami saga jane bhaya sacho cha
Aama lai bhuhari ko khacho cha
Dharan ko Purano bazar ma…

Hamilai ta sarai manparyo
Timilai parcha ki pardaina
Aama lai sodha k bhancha
Aja ta na lagi chod daina
Hamilai ta sarai manparyo
Timilai parcha ki pardaina
Aama lai sodha k bhancha
Aja ta na lagi chod daina
Dholi ma chadae laijaula
Natra ta sutukai bhagaula
Dholi ma chadae laijaula
Natra ta sutukai bhagaula

Dharan ko Purano bazar ma
Thi baini lai chine theyau
Kaela kae bhet huda maya
Ko koseli diya theyau
Dharan ko Purano bazar ma
Thi baini lai chine theyau
Kaela kae bhet huda maya
Ko koseli diya theyau
Chauma huda lajhau chau
Tadha ma huda muskinchau
Chauma huda lajhau chau
Tadha ma huda muskinchau
Dharan ko Purano bazar ma……