Ducati Multistrada 1200 Review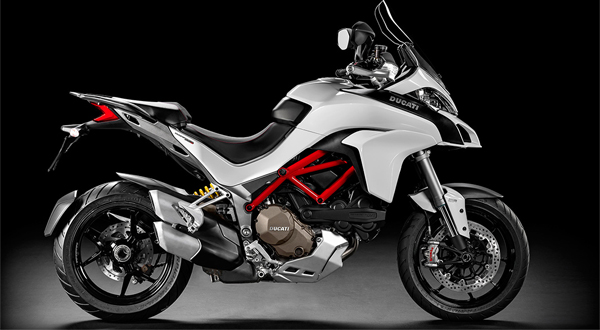 Ducati is a popular motorcycle company which has launched numerous motorcycles under different nameplates like the Ducati Monster, Ducati Panigale, Ducati Scrambler, etc. The same company in the year 2003, launched the first generation of the Multistrada which was a 992 cc motorcycle. With the passage of time and change in people's need, Ducati launched the 1200 cc version of the Multistrada. The Ducati Multistrada 1200 cc version, further, is available in three variants; Multistrada 1200, Multistrada 1200 S and Multistrada Enduro.
The Ducati Multistrada 1200 looks similar to the Multistrada 1200 S. Everything starting from the placement of the body-frame, design and placement of dual exhaust system, dual seats looks identical in the Multistrada 1200 and 1200 S. The chassis of both the 1200 and 1200 S is same, and the alloy wheels also look similar. Also, both 1200 and 1200 S possesses length of 2200 mm.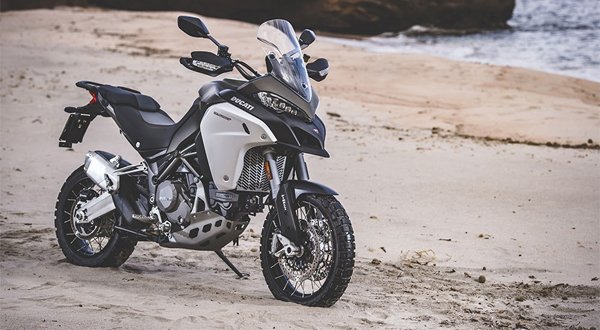 The Ducati Multistrada 1200 Enduro has been built on same body design as other Multistrada 1200 variant. However, the Enduro version looks much muscular than others. However, the Enduro has been featured single exhaust and also has a unique design. Also, the chassis featured in the Enduro variant looks like off-road type than that of 1200 and 1200 S. Further, the Enduro has been featured with metallic spokes instead of alloy wheels which make it look like a typical off-road motorcycle.
Moreover, Ducati has been exporting the three variants of Multistrada in Nepal under the dealership of Turbo Motors Trading.
Price in Nepal: Rs. 4,000,000 (Multistrada 1200 Base),
Rs. 4,200,000 (Multistrada 1200 Touring Pack),
Rs. 4,400,000 (Multistrada 1200S Red),
Rs. 4,400,000 (Multistrada 1200S White),
Rs. 4,500,000 (Multistrada 1200S Red+Touring Pack),
Rs. 4,500,000 (Multistrada 1200S White+Touring Pack),
Rs. 5,000,000 (Multistrada 1200S D|Air, Pikes Peak),
Rs. 4,400,000 (Multistrada 1200 Enduro Red, White and Grey),
Rs. 4,650,000 (Multistrada 1200 Enduro Red, White and Grey + Touring Pack)
Dimension:
| | | | |
| --- | --- | --- | --- |
|  Category |  Ducati Multistrada 1200 |  Ducati Multistrada 1200 S |  Ducati Multistrada 1200 Enduro |
|  Body Type |  Dual Sport |  Dual Sport |  Dual Sport |
|  Weight |  232 kg |  235 kg |  254 kg |
|  Length |  2200 mm |  2200 mm |  NA |
|  Height |  1420 mm |  825>845 mm |  NA |
|  Width |  NA |  NA |  NA |
|  Wheelbase |  1530 mm |  1530 mm |  1594 mm |
|  Ground Clearance |  NA |  NA |  NA |
Engine:
| | | | |
| --- | --- | --- | --- |
|  Category |  Ducati Multistrada 1200 |  Ducati Multistrada 1200 S |  Ducati Multistrada 1200 Enduro |
|  Fuel |  20 liters |  20 liters |  30 liters |
|  Engine Type |  Testastretta 11° L-Twin, 4 Desmodromically actuated valves per cylinder, liquid cooled |  Ducati Testastretta DVT with Desmodromic Variable Timing, L-Twin cylinder, 4 valve per cylinder, Dual Spark, liquid cooled |  Testastretta with variable valve timing, L-Twin cylinder, 4 valve per cylinder, Dual Spark, Desmodromic, liquid cooled |
|  Maximum Power |  160 bhp @ 9500 RPM |  160 bhp @ 9500 RPM |  160 bhp @ 9500 RPM |
|  Maximum Torque |  136 Nm @ 7500 RPM |  136 Nm @ 7500 RPM |  136 Nm @ 7500 RPM |
|  Displacement |  1198.4 cc |  1198.4 cc |  1198.4 cc |
|  Box X Stroke |  106 x 67.9 mm |  106 x 67.9 mm |  106 x 67.9 mm |
|  Starting System |  Electric |  Electric |  Electric |
|  Final Drive | Chain 5.30″; Front sprocket 15; Rear sprocket 40 |   Chain 5.30″; Front sprocket 15; Rear sprocket 40 |  Chain; Front sprocket 15; Rear sprocket 43 |
Suspension:
| | | | |
| --- | --- | --- | --- |
|  Category |  Ducati Multistrada 1200 |  Ducati Multistrada 1200 S |  Ducati Multistrada 1200 Enduro |
|  Front Suspension |  48mm fully adjustable usd forks. Electronic compression & rebound damping adjustment with Ducati Skyhook Suspension |  48mm fully adjustable usd forks. Electronic compression & rebound damping adjustment with Ducati Skyhook Suspension (DSS) |  Sachs 48 mm fully adjustable usd forks. Electronic compression and rebound damping adjustment with Ducati Skyhook Suspension (DSS) |
|  Rear Suspension |  Electronic compression & rebound damping adjustment. Electronic spring pre-load adjustment with DSS Aluminium single-sided swingarm |  Fully adjustable unit. Electronic compression and rebound damping adjustment. Electronic spring pre-load adjustment with Ducati Skyhook Suspension (DSS). Aluminium single-sided swingarm |   Fully adjustable Sachs unit. Electronic compression & rebound damping adjustment. Electronic spring pre-load adjustment with Ducati Skyhook Suspension (DSS). Aluminium double-sided swingarm |
|  Front Tyre |  Pirelli Scorpion Trail 120/70 17″ |  Pirelli Scorpion Trail II 120/70 17″ |  Pirelli Scopion Trail II 120/70 ZR19 as optional Pirelli Scorpion Rally same measure |
| Rear Tyre |  Pirelli Scorpion Trail 190/55 17″ |  Pirelli Scorpion Trail II 190/55 17″ |  Pirelli Scorpion Trail II 170/60 ZR17 as optional Pirelli Scorpion Rally same measure |
Brakes:
| | | | |
| --- | --- | --- | --- |
|  Category |  Ducati Multistrada 1200 |  Ducati Multistrada 1200 S |  Ducati Multistrada 1200 Enduro |
|  Front Brake |  2 x 320mm semi-floating discs, radially mounted Brembo callipers, 4-piston, 2-pad. ABS as standard equipment |  2 x 330 mm semi-floating discs, radially mounted Brembo monobloc Evo M50 4-piston calipers, 2-pad, radial pump with cornering ABS as standard equipment |  2 x 320 mm semi-floating discs, radially mounted monoblocco Brembo callipers, 4-piston, 2-pad, with cornering ABS as standard equipment |
|  Rear Brake |  245mm disc, 2-piston caliper |  265 mm disc, 2-piston floating calliper, with cornering ABS as standard equipment |  265 mm disc, 2-piston floating calliper, with cornering ABS as standard equipment |
Transmission:
| | | | |
| --- | --- | --- | --- |
|  Category |  Ducati Multistrada 1200 |  Ducati Multistrada 1200 S |  Ducati Multistrada 1200 Enduro |
|  Transmission |  Manual |  Manual |  Manual |
|  No. of Gears |  6 |  6 |  6 |
|  Clutch |  Light action, wet, multiplate clutch with hydraulic control. Self-servo action on drive, slipper action on over-run |  Light action, wet, multiplate clutch with hydraulic control. Self-servo action on drive, slipper action on over-run |  Light action, wet, multiplate clutch with hydraulic control. Self-servo action on drive, slipper action on over-run |