Ek Palta Jhareko Phool by Uddipdhoj Thapa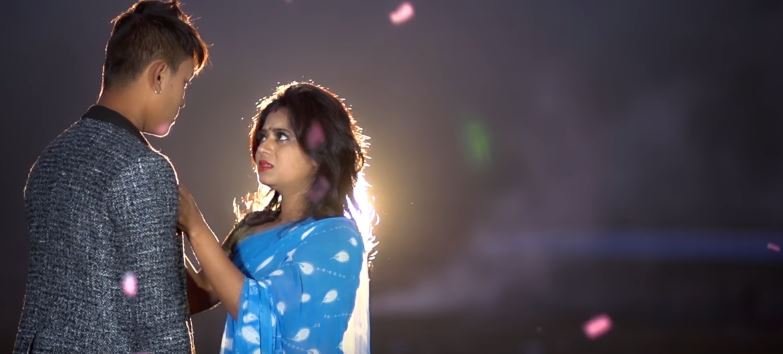 Ek Palta Jhareko Phool is a new aadhunik Nepali melodious sentimental song by Uddipdhoj Thapa. The music video features Bishal Lama and Keki Adhikari. Ek Palta Jhareko Phool  is directed by Bishal Bhandari. The music video was edited by Nishan Ghimire and was cinematographed by Arjun Tiwari.
The lyrics as well as music for this song is composed by Rajan Raj Shiwakoti. The music video features hot,cute and versatile actress Keki Adhikari. She is also known as Queen of music video of Nepal. She has appeared in numerous music videos, television commercials, print ads and more than a dozen of Nepali movies. Ek Palta Jhareko Phool  is a sentimental song which deliver the message that don't break the trust of any one. Otherwise, One day you will regret yourself by that mistake in your life. When you once listen this song, I am sure that tears will not hold in your eyes.
The music video is released officially online by Music Nepal via Youtube. Hope that you will enjoy this melodious modern song Ek Palta Jhareko Phool.
Here is the lyrics of Ek Palta Jhareko Phool:
Ek Palta Jhareko Phool
Fakrinna pheri priya

Ek Palta Jhareko Phool
Fakrinna pheri priya
Ek palta thuteko mann
Ek palta thuteko mann
Jodinna meri priya
Ek Palta Jhareko Phool…..

Paena bhanu bhane
Timilai payekai ho

Paena bhanu bhane
Timilai payekai ho
Khaena bhanu bhane
Dhoka khaye kai ho
Ek Palta Jhareko Phool
Fakrinna pheri priya
Ek palta mareko dil
Ek palta mareko dil
Bhiujhina meri priya
Ek Palta Jhareko Phool…..

Galti garina maela
Nata dosh timro nai theyo

Galti garina maela
Nata dosh timro nai theyo
Suekar garnu nai parne
Samaye ko khel yo
Ek Palta Jhareko Phool
Fakrinna pheri priya
Ek palta juteko mann
Ek palta juteko mann
Jodinna pheri priya
Ek Palta Jhareko Phool…………