Eklai Chhadi Gayau Kina (Audio) by Anju Panta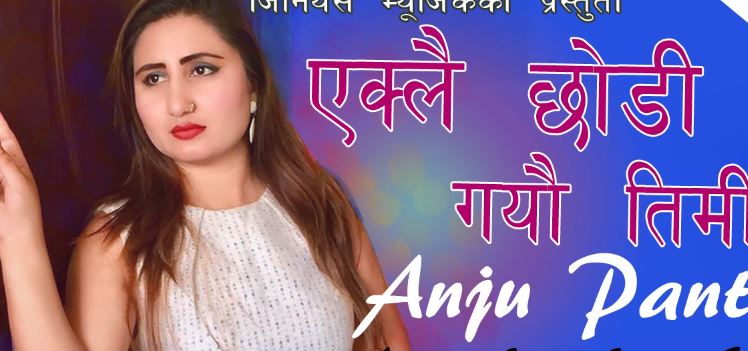 Eklai Chhadi Gayau Kina is a new Nepali sentimental pop song by Anju Panta. Eklai Chhadi Gayau Kina is a Nepali song which was arranged by Kiran Kandel. This music video is just a simple audio version during the recording of the song at Pragya Sound Studio.
The music for this song was composed by Shankar Thapa and lyrics was written by Gyanu Gurung (Shrestha). Anju Panta who is one of the best Nepali female singer of this era. After the release of her this Gazal "Na Birse Timilaai, Na Paye Timilai…" which became so popular among Nepalese all over the world. She gave her melodious voice to hundreds of Nepali songs. Eklai Chhadi Gayau Kina is heart touching sentimental song in which singer Anju Panta spread the message that don't believe to anyone blindly. The person who you believe more will break your trust easily. When you once listen this song, I am sure you will keep repeating it.
The music is released officially online by GeniusMusic via Youtube. Hope that you will enjoy this melodious songs Eklai Chhadi Gayau Kina.
Here is the lyrics for Eklai Chhadi Gayau Kina:
Pherki auna bacha gari
Eklai chadi gayau timi

hoo Pherki auna bacha gari
Eklai chadi gayau timi
Kurda kurdai thaki sake
Kurda kurdai thaki sake
Kaela auchau pharki timi
Timrai yad ma tadpi tadpi
Ma ta rudai chhu
Timi bina yo sansar ma
Eklo hudai chhu
Timi bina yo sansar ma
Eklo hudai chhu……

Ruyekai theyau timi pani
Ma saga chutne bela

hoo Ruyekai theyau timi pani
Ma saga chutne bela
Malae jastai timilai pani
Malae jastai timilai pani
Garo bhayo hola
Birsiyau ki bacha bandan
Chura dhago sindur pote ko
Aakha chimli biswas gare
Aakha chimli biswas gare
Timra sabai kura haru ko
Timrai yad ma tadpi tadpi
Ma ta rudai chhu
Timi bina yo sansar ma
Eklo hudai chhu
Timi bina yo sansar ma
Eklo hudai chhu……

Thahai theyana maya k ho
Sikayau maya garna

hoo Thahai theyana maya k ho
Sikayau maya garna
Timilai bhuli sakdina yo
Timilai bhuli sakdina yo
Maya antai sarna
Rat dina jun ujhal
Mitha mitha ti pal haru ko
Yo juni ta timilai nai ho
Yo juni ta timilai nai ho
Sakdina ma huna aru ko
Timrai yad ma tadpi tadpi
Ma ta rudai chhu
Timi bina yo sansar ma
Eklo hudai chhu
Timi bina yo sansar ma
Eklo hudai chhu…………