Fan Movie Review and Box Office Collection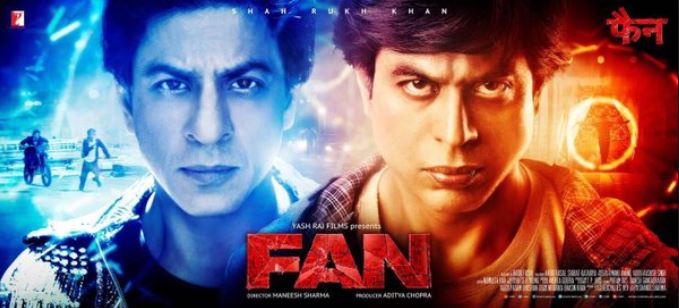 Fan is the latest release of Bollywood Badshah Shah Rukh Khan. The movie based on the life of a Superstar and his Fan has hit the screens on April 15, 2016. The story of an obsessed fan was released by the Yash Raj Films. The movie is directed by Maneesh Sharma and Shah Rukh Khan was seen in the lead role with a double role impact.
Plot
The story revolves around a middle class Delhi Boy, Gaurav Chaddha (Shah Rukh Khan). Interestingly, he is a look alike of the Superstar Aryan Khanna (Shah Rukh Khan) and he is a die-hard fan of him. He kept on imitating his favorite stars and even won a competition. However, that gave him the confidence to meet his superstar in his birthday. The Delhi boy travels to Mumbai to meet huge crowed who wants a glimpse of the superstar. However, the situation changes dramatically there as a fellow actor of Aryan spoke negatively against Aryan on media. However, that irked Gaurav and he thrashed him and forced him to apologize on media. He thought of praise from Aryan and sends him message owning the full responsibility of the incident. However, to his surprise, Aryan Khanna considers this as crime and asks police to arrest him. He even roughed him up for the behavior and a dismayed Gaurav turned against his superstar following that and decides to take revenge.
The story takes a leap of one year and Gaurav starts following Aryan worldwide. He disguises himself as Aryan creates havoc in London to get Aryan arrested. He however manages the bail. Later, Gaurav threatens him to apologize him else he would destroy Aryan's stardom. Aryan refused and Gaurav enters and molest a guest in a wedding ceremony where Aryan reached to perform. Strong protest and anger develop against Aryan due to this and Aryan finally came out to convey that an imposter is doing all these.
Later, Gaurav enters Aryan's house and abused his wife. Aryan tries to meet Gaurav with the help of Neha (Shriya Pilgaonkar), gaurav's love interest. He proposes to her as Gaurav and confesses the crime. However, Gaurav got angry and shoot Aryan, only to miss. Aryan gave a chase to his Fan and finally catch hold of him. Aryan asked Gaurav to be an imposter of him, but Gaurav blamed him for ruining his life and jump to his death. But the entire ordeal leave a strong impression on Aryan.
Performance
The movie is all about Shah Rukh Khan and he did his best for the director. He was impressive as Aryan Khanna. However, his role as Gaurav was one of his best performance. The performance of an obsessed fan was too good for King Khan and that basically carried the movie forward. The screenplay and the narration of the story is quite impressive and Maneesh Sharma proved that he is not an ordinary director.
Box Office Collection
The big release and the big brand movie Fan released worldwide on April 15. It opened with huge weekend and earned 19.20 Crores on the very first weekend in India. However, the movie lost the momentum during the course and the collection at the Box Office unexpectedly dropped by large. Fan has collected close to 72.38 Crores in India as on 22nd April. The chances are bleak that the movie would enter the 100 Crores Club.