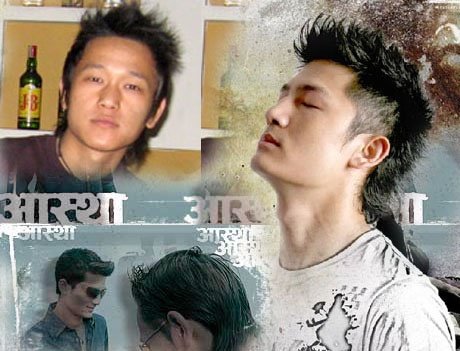 Harpal is a Nepali pop entertaining song by Astha band. The song is taken from one of the well known album of Aastha band "Aastha". The song is directed by Simosh Sunuwar and he also handle the graphics and do editing of the music video. Pramod Karki is the cameraman of this song.
The music and lyrics for the song was done by Aastha band and the audio was handled by Samjhana Audio and Video. The music video is full of love and deep feelings towards loved ones. This song has unique tone and music. This song is one of the most liked song of music song listeners. Harpal music video represents the approaches of representing love towards loved ones. Astha, a two men band formed by two music enthusiasts who carved to create some new kind of music is one of the most popular bands in Nepal. Astha means "Faith" and the band members, Naren Limbu and Sudip Gurung, definitely had faith in themselves that they could create music that would be loved by all. The band was formed during the early days of their college and they released their first album in 2003. When you once listen this song, I am sure your body will start moving.
The music video is released officially online by Pride Nepal via Youtube. Hope that you will enjoy this romantic and melodious modern song Harpal.
Here is the lyrics for the song:
Harpal Tyo Timro Muskan Ko Yaada Le
Sataun Chha Ani Pirol Chha Malai
Nashalu Timra Ti Kalo Kesh Le
Mero Bhoka Pyasa Sabai Lutyo Ho Ho
Padhne Belama Pani Ma
Kina Ho Yeshari Sandhai Tolai Rahanchhu
Jiundai Chha Nayan Kebal Timrai Tashbir
Ma Herdai Muskuraun Jasto Ho
Sahara Timi Mero Prerana Timi Mero
Jiunu Ko Aartha Nai Timi Mero
Sahara Timi Mero Chahana Timi Mero Ho Ho Ho
Napadhi Bachna Sakdina Ma
Binti Chha Mero Maya Bujhi Deu

Harpal Tyo Timrai Boli Ko Gunjan Le
Sataun Chha Ani Pirol Chha Malai
Nischal Tyo Timrai Muhar Le
Mero Bhoka Pyasa Sabai Lutyo Ho Ho
Sahara Timi Mero Prerana Timri Mero
Jiunu Ko Aartha Nai Timi Mero
Sahara Timi Mero Chahana Timri Mero Ho Ho He
Sahara Timi Mero Prerana Timri Mero
Jiunu Ko Aartha Nai Timi Mero
Sahara Timi Mero Chahana Timri Mero Ho Ho He
Napadhi Bachna Sakdina Ma
Binti Chha Mero Maya Bujhi Deu
Sahara Timi Mero Prerana Timri Mero
Jiunu Ko Aartha Nai Timi Mero
Sahara Timi Mero Chahana Timri Mero Ho Ho He
Napadhi Bachna Sakdina Ma
Binti Chha Mero Maya Bujhi Deu