Heri Sidhai Najarma by Basanta Prakriti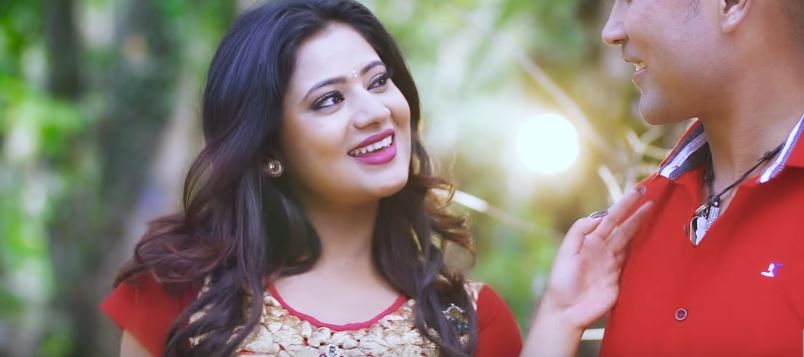 Heri Sidhai Najarma is a New Aadhunik Nepali Melodious pop song by Basanta Prakriti. The music video features Keki Adhikari and Nikit. Heri Sidhai Najarma is a Nepali song by Basanta Prakriti which is directed by Arjun Adhikari. Heri Sidhai Najarma music video was edited by Nishan Ghimire and music video of this song was cinematographed by Hari Humagain.
The music of this song was composed by Chandi Prasad Kafle and lyrics was written by Dipak Kaudinya. The music video is featuring by versatile actress Keki Adhikari. She is also known as Queen of music video of Nepal. She has appeared in numerous music videos, television commercials, print ads and more than a dozen of Nepali movies. Heri Sidhai Najarma was choreographed by Suren Basyal. Heri Sidhai Najarma is a romantic song. When you once listen this song, I am sure you will keep repeating it.
The music video is released officially online by Vibes Digital Nepal via Youtube. Hope that you will enjoy this Melodious pop Song Heri Sidhai Najarma.

Here is the lyrics for the song:
Heri Sidhai Najarma
Najarma Najarma Najarma
Heri Sidhai Najarma
Najarla Batha mara

Heri Sidhai Najarma
Najarla Batha mara
Heri Sidhai Najarma
Najarla Batha mara
Kholera dil piyara
Kholera dil piyara
Kholera dil piyara
Yo mann ko batha sarana
Heri Sidhai Najarma
Najarla Batha mara…

Tann mann dubae
Nai mero
Kasko mathi bhulau

Tann mann dubae
Nai mero
Kasko mathi bhulau
Yo baisa ko Chunauti
Yo baisa ko Chunauti
Yo baisa ko Chunauti
Aela nai suekara
Heri Sidhai Najarma
Najarla Batha mara…

Mila na mila pheri
Pheri ekanta yesto

Mila na mila pheri
Pheri ekanta yesto
Dherai pachi jhurako
Dherai pachi jhurako
Dherai pachi jhurako
Sayad tesai na taros
Heri Sidhai Najarma
Najarla Batha mara

Heri Sidhai Najarma
Najarla Batha mara
Kholera dil piyara
Kholera dil piyara
Kholera dil piyara
Yo mann ko batha sarana
Heri Sidhai Najarma
Najarla Batha mara…