Hrhidaya By Ravi Bajracharya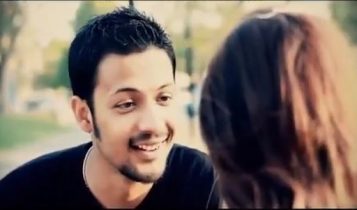 Hrhidaya is a Nepali sentimental song by talented singer Ravi Bajracharya. The music video was taken from album "Urja". The video is directed by Arjun Adhikari and edited by Bhupendra Bhattrai. This music video beautifully filmed by Cameraman Surya Baniya and Suraj Paudel.
The lyrics of the song Hrhidaya was contributed by Binod Basnet and the music was arranged by Sunil Bardewa. The music video features talented models Romina Thapa and Shibir Pokhrel. They all perform in very well manner such that the whole story is clearly understood and feel by the viewers. The vocal in this song was given by Ravi Bajracharya. He is one of the known singer of Nepal and have many fans following. This is so melodious and informative music video to the young lover. I suggested you guys to watch this video and enjoy it.
The video is officially released online by babbaalmazzako via YouTube. Please check out the music video below and enjoy it:
Here is the lyrics for the song Hrhidaya:
Hridayalai todi diyou
Ghaau rahyo chino bani
Dhit maarna baaki chha bhane
Dhit maarna baaki chha bhane
Baru dinchhu chhino pani
Ghaau rahyo chino bani

Khaato baseko ghaaulai
Kotyaaunu nai kina
Chhatachhulla mutulai
Choityaaunu nai kina
Pirati phool sangai
Unyou kina kaadaa
Najikyaai aafulai
Bhayou kina taadhaa
Dhit maarna baaki chha bhane
Dhit maarna baaki chha bhane
Baru dinchhu chhino pani
Ghaau rahyo chino bani

Nirdosh nai thiye ma
Aaropi ta bhaye kina
Diusai chhan raatharu
Adhyaara bhaye din kina
Khusi ra haaso sabai
Daijo diye timilai
Bhaagya le nai irsya garyo
Timro mero mel pani

Hridayalai todi diyou
Ghaau rahyo chino bani
Dhit maarna baaki chha bhane
Dhit maarna baaki chha bhane
Baru dinchhu chhino pani
Ghaau rahyo chino bani