Jadai Chu Tadha(Audio) by Sanjeet Shrestha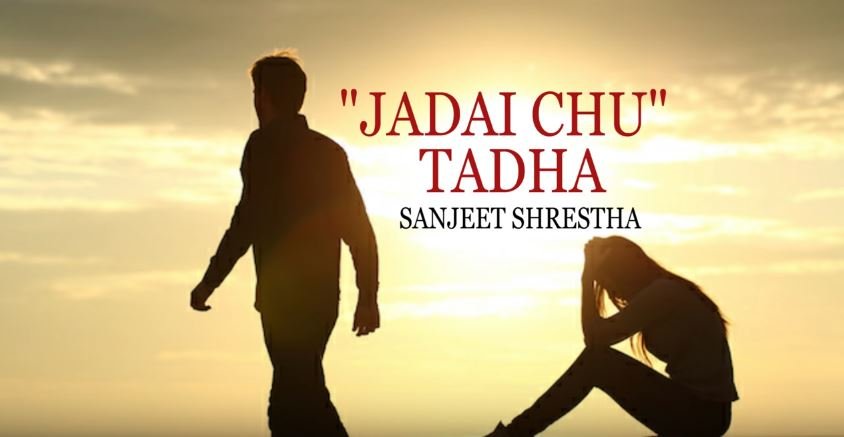 Jadai Chu Tadha is a New romantic pop song by popular singer Sanjeet Shrestha. Sanjeet Shrestha is an astounding undeniably one of the most excellent musical figure of Nepal. Sanjeet Shrestha is a vocalist, composer, arranger as well as songwriter.
Jadai Chu Tadha song music as well as lyrics was composed by Sanjeet Shrestha himself. The released of popular song JUNI VARI LAI 2 had heaved his status throughout the country. When you once listen this song, I am sure you will keep repeating it.
The music video is released officially online by Sanjeet Shrestha via Youtube. Hope that you will enjoy this pop Song Jadai Chu Tadha.

Here is the lyrics for the song:
Bhan na lai bhannachu
Timilai birsanachu
Tara aafno mann lai
Kaha dhatna sakchu
Rojna lai rojana chu
Timi jastai arulai
Tara timro maya lai
Kaha dhajana sakchu
Jadai chu tada
Yadha yo gadha
Li mann ma
Bhujhauna sakina
Kina ho kina
Antim chadama

Jadai chu tada
Yadha yo gadha
Li mann ma
Bhujhauna sakina
Kina ho kina
Antim chadama…

U saga bhetako
To paela din ma
Bhulauna sakadina
Ma ekxin
Tadha huda
Bhujhadai chu
Timro to maya lai
Shamalna sakadina
Aafno tyo
Bhawana lai
Paristhiti kasto cha
Dhikar malae
Basdai chu
Mutu afno jalae
Yaha suni dina
Koe chaena
Mero kura
TImro sath ma
Huna theyo jiwan pura
Jadai chu tada
Yadha yo gadha
Li mann ma
Bhujhauna sakina
Kina ho kina
Antim chadama

Jadai chu tada
Yadha yo gadha
Li mann ma
Bhujhauna sakina
Kina ho kina
Antim chadama…