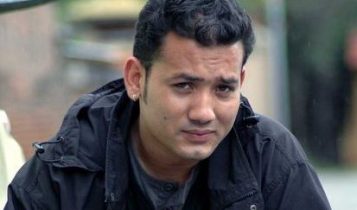 Jamuna is a new Nepali romantic pop song by Babu Bogati from his album "Result". This song is released for the purpose of entertainment the viewers and listeners. Jamuna is directed by Alok Nembang. This romantic music video was edited by Shristi Gahatraj and the cinematography was done by Shiva Ram Shrestha.
The music video shows the romance conversation between girls and boys in this song. The boys are trying to impress the girls with their act and conversation. This music video is full package of entertainment. The vocal for this song is given by one of the talented and famous singer, actor, composer and writer Mr. Babu Bogati. He has appeared in numerous music videos and movies. Jamuna is romantic pop song where Babu Bogati and his friends flirts in romantic way to the girls whose name were Jamuna. The audio is handled by the Music.com . When you once listen this song, I am sure you will keep tuning it.
The music video is released officially online by sapklax via Youtube. Hope that you will enjoy this romantic song Jamuna.
Here is the lyrics for the song Jamuna:
Jamuna……
Jamuna…..
Pallama gharki saili maili
Hami dajuvai lae jamuna
Oe hoe jamuna jamuna jamuna
Sallama mile vagai lanchhau
Tmi didilae jamuna
Oe hoe jamuna jamuna jamuna

Gaele khane varuki ta
Vaisile khanchha ra jamuna
Oe hoe jamuna jamuna jamuna
Hasi ma deuna boli ma deuna
Tmro k janchha ra jamuna
Oe hoe jamuna jamuna jamuna

Lasama lasa masala pisnu
Dohori vaye po jamuna
Oe hoe jamuna jamuna jamuna
Ekori maya mai kati launu
Dohori vaye po jamun a
Oe hoe jamuna jamuna jamuna
Ghuruma ghuru parewa ghureo
Hasa pothi ghurena
Oe hoe jamuna jamuna jamuna
Sabailae ureo purba ko saeta
Hamilae jurena jamuna
Oe hoe jamuna jamuna jamuna

Katera khane supare jyanalae
Fodera khanchhau ki jamun a
Oe hoe jamuna jamuna jamuna
Nalaunu maya laesakepaxi
Chhodera janchhau ki jamun a
Oe hoe jamuna jamuna jamuna
Ek pate makkai due pate vayo
Kuto jyanle godera jamuna
Oe hoe jamuna jamuna jamuna
Nalaunu maya laesakepachhi
Jadainau ho chhodera jamuna
Oe hoe jamuna jamuna jamuna