Jati Dherai by Bishal Ghimire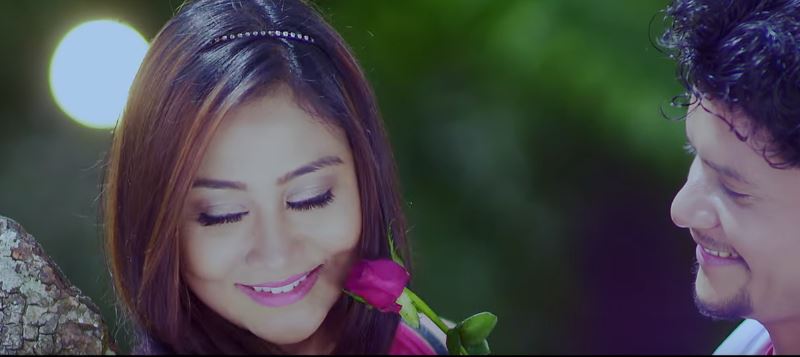 Jati Dherai is a new sentimental song by Bishal Ghimire. The music video features Ramesh Tiwari and Ashishma Nakarmi. Jati Dherai is a Nepali song by Bishal Ghimire which is directed by Yodin ML Sambahamphe. Jati Dherai music video was edited by Arjun Pokhrel and music video was cinematographed by Gyanendra Sharma.
The music of this song is composed by Krishna Yonjan and lyrics of this song was given by Keshav Acharya. The music video is featuring by versatile actress Ashishma Nakarmi with a new looks. She has appeared in numerous music videos, television commercials, print ads. Jati Dherai is a sentimental love story song. This songs shows the information that love done by heart is greater than love done by external pressure. Love occur by internal feeling never dies. So, love anyone from you heart but don't love to play with their feeling. Jati Dherai music video also has shown the best example of true love. When you once watch this music video, I am sure you will not able to hold the tear from your eyes.
The music video is released officially online by Vibes Digital Nepal via Youtube. Hope that you will enjoy this Melodious sentimental song Jati Dherai.

Here is the lyrics of Jati Dherai:
Jati Dherai maya garchau
Uti dherai runu parcha
Jati Dherai maya garchau
Uti dherai runu parcha
Pareli lai praya sadai
Ashu le nai dhunu parcha
Pareli lai praya sadai
Ashu le nai dhunu parcha
Jati Dherai maya garchau
Uti dherai runu parcha…..

Tadha huncha taan ko manche
Sagai huncha mann ko manche
Tadha huncha taan ko manche
Sagai huncha mann ko manche
Sarira le tadha huda
Samjhana le chunu parcha
Samjhana le chunu parcha
Jati Dherai maya garchau
Uti dherai runu parcha…..

Socha jasto samjhe jasto
Pugako chha kaha kasko
Socha jasto samjhe jasto
Pugako chha kaha kasko
Pida le jale pani
Na jale jhai hunu parcha
Na jale jhai hunu parcha
Jati Dherai maya garchau
Uti dherai runu parcha

Pareli lai praya sadai
Ashu le nai dhunu parcha
Pareli lai praya sadai
Ashu le nai dhunu parcha
Jati Dherai maya garchau
Uti dherai runu parcha………