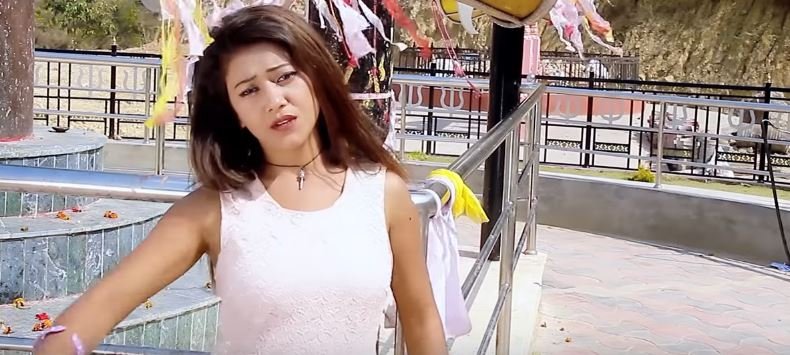 Jati Tada is a new aadhunik Nepali song by Anju Panta. The music video features Niraj and Nimita. Jati Tada is a Nepali song by Anju Panta which is directed by Saroj Regmi. The music video was Cinematographed by Dev Raj Acharya and music video was edited by Nabin Gharti Magar.
The music for this song is composed by Santosh Rajaure and lyrics was written by Bamdev Regmi. Jaha Sangai Theyau is a melodious heart touching song by Anju Panta. She is one of the famous, talented and versatile singer of Nepal. Panta has given her voice in more than hundreds of hit songs. Niraj and Nimita two talented artist has given their best performance in this music video. This song deliver the message that distance doesn't matter if roots of our relationship are strong enough. The music video was presented by Santosh Kumar Rajaure and was post production by Krishna Films & Advertising. I am sure you will like repeating this song when you once listen to it.
This music video is officially released online by HighlightsNepal via YouTube. Hope you guys will enjoy this melodious sentimental song Jati Tada.
Here is the lyrics for Jati Tada:
Jati Tada Jati Tada
Uti gadha lagcha
Timrai maya
Jaha bhaye ni chhau
Timi mero ridaye ma
Jaha bhaye ni chhau
Timi mero ridaye ma
Jati Tada……

Timi bhayek aru malae
Kae chaha chaena
Mero samu timilai
Chadi jane chaena

Timi bhayek aru malae
Kae chaha chaena
Mero samu timilai
Chadi jane chaena
Sadai timilai samjhidai
Dina kateki chhu
Matrai timi saga ho
Maela mann mutu
Sateki chhu
Jati Tada……

Timrai samjhane le
Malae Sataucha jaela
Bhagwan pujane mandirama
Timilai pujhe maela

Timrai samjhane le
Malae Sataucha jaela
Bhagwan pujane mandirama
Timilai pujhe maela
Chaena dherai aba hami
Tadha bhae tadpiyera bachna
Audai chhu ma timi saga
Priya atuta saino gasna
Jati Tada………………