Jau Bhanera by Aakash Tamang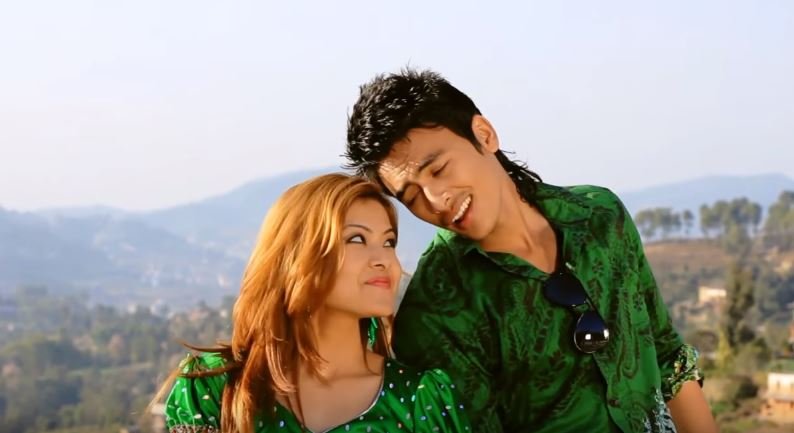 Jau Bhanera is a new Nepali romantic pop song by Aakash Tamang. The music video features Paul Shah and Prashna. Jau Bhanera is directed by Nitin Chand. This romantic music video was edited by Paul Shah and Choreographer is Gobinda Rai.
The music for this song was composed by Sunil KC (Seavens) and lyrics was written by Sunil KC (Seavens) himself. The music video features versatile actor Paul Shah with a new looks. He has appeared in numerous music videos, television commercials, print ads and more than a dozen of Nepali movies. Jau Bhanera is romantic pop song where Paul Shah and his friends flirts in romantic way to Prashna. The music video was arranged by Bishal Gurung. When you once listen this song, I am sure you will keep tuning it.
The music video is released officially online by Music Nepal via Youtube. Hope that you will enjoy this romantic song Jau Bhanera.
Here is the lyrics for the song Jau Bhanera:
Jaau bhanera bolaako timile
Timi bhane arkai lai man dine
Jaau bhanera bolaako timile
Timi bhane arkai lai man dine
Huna ta timile man choryou
Malai chhodyou arkailai angaalyou
Malai chhodyou arkailai angaalyou

Ma ta thiye maya ko pujaari
Ma ta thiye maya ko pujaari
Ke paaye ra maya yo lagaai
Ke paaye ra maya yo lagaai
Haasthe ma ta timi sanga jahile ni
Jahile ni
Ruwaaihaalyou timile ahile ni
Timi bhane arkai lai man dine
Timi bhane arkai lai man dine
Laa laaa laaa laaa……….

Ke paayou ra aru sanga gayera
Ke paayou ra aru sanga gayera
Galti mero ke nai po thiyo ra
Galti mero ke nai po thiyo ra
Haasthe ma ta timi sanga jahile ni
Jahile ni
Ruwaaihaalyou timile ahile ni
Timi bhane arkai lai man dine
Timi bhane arkai lai man dine
Laa laaa laaa laaa……….

Jaau bhanera bolaako timile
Timi bhane arkai lai man dine
Timi bhane arkai lai man dine
Huna ta timile man choryou
Malai chhodyou arkailai angaalyou
Malai chhodyou arkailai angaalyou
Timi bhane arkai lai man dine
Timi bhane arkai lai man dine
Malai chhodyou arkailai angaalyou
Timi bhane arkai lai man dine