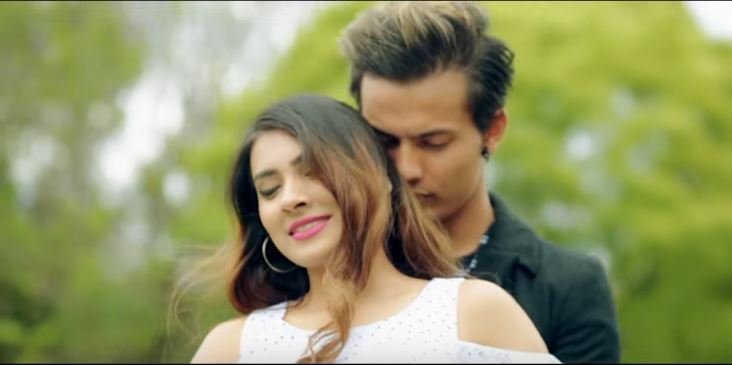 Jhar Jhar Barsaat Ko is a New Aadhunik Nepali Romantic Rap pop song from Album "MADIRA". The music video features actor and actress are Bishal Bharati, Super Grg, Rajkumar and Neikisha. Jhar Jhar Barsaat Ko is a Nepali song by Rabin Adhikari which is directed by Suren Shrestha. Jhar Jhar Barsaat Ko is edited by Mokshya (Prabin Shrestha / Ujjwal).
This music video gives the information about that Life is what happens to us while we are making other plans so Don't make a permanent decision for your temporary emotion. You must enjoy every moment with smile in our face. The lyrics of this song was given by Rabin Adhikari and Jungi Nishan. When you once listen this song, I am sure you will keep repeating it. This is romantic adhunik pop song hope that you will also love this song.
The music video is released officially online by SongsNepal via Youtube. Hope that you will enjoy this Melodious pop Song Jhar Jhar Barsaat Ko by Rabin Adhikari.

Here is the lyrics for the song:
Jhar jhar Barsaat
Ko bela ma
Esmiti pana
Kori basa ma
Maya agaman
ko bela ma
Dobato ma
Kuri basa ma
Tara timi
Aeyanu
Kina timila
Bhujhinau
Tara timi
Aeyanu
Kina timila
Bhujhinau
Jhar jhar Barsaat
Ko bela ma…

(Rap Rap Rap)

Maya matra
Haina timilai
Mutu pani dintheya
Bhantheya ma
Satha matra
Haina timilai
Sara jiwan dinchu
Bhantheya ma
Tara timi
Aeyanu
Kina timila
Bhujhinau
Tara timi
Aeyanu
Kina timila
Bhujhinau
Jhar jhar Barsaat
Ko bela ma…

(Rap Rap Rap)

Khusiyali ko
Yo raat ma
Satha didaichu
Yo haata ma
Pheri auchau bhanna
Asha ma chapakinchu
Timro yada ma
Tara timi
Aeyanu
Kina timila
Bhujhinau
Tara timi
Aeyanu
Kina timila
Bhujhinau
Jhar jhar Barsaat
Ko bela ma…

(Rap Rap Rap)

Tara timi
Aeyanu
Kina timila
Bhujhinau
Tara timi
Aeyanu
Kina timila
Bhujhinau
Jhar jhar Barsaat
Ko bela ma……