Jiban Yauta Kitaba ho by Shiva Pariyar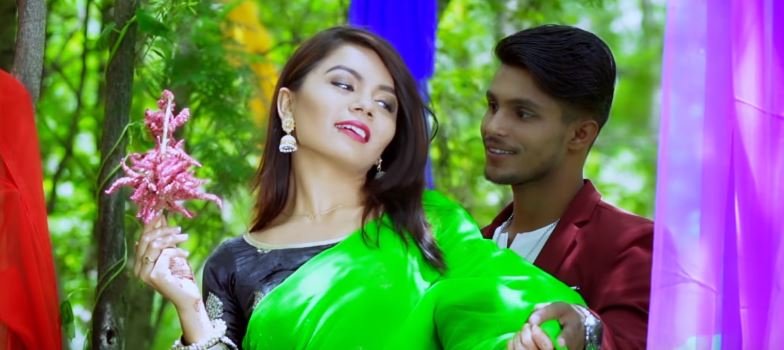 Jiban Yauta Kitaba is a new melodious Nepali aadhunik song by Shiva Pariyar. The music video features Shiwani Adhikari and Binod. Jiban Yauta Kitaba is a Nepali song which is directed by Sisir Shrestha. The music video was edited by Amrit chapagain and music video is Cinematographed by Mukesh Humagain.
The music for this song was composed by Rajshukra Limbu and lyrics was written by Desu Gole. The music video features hot and gorgeous model of Nepali entertainment industry, Shiwani Adhikari. She has given her amazing act in hundred of music video. Jiban Yauta Kitaba is a aadhunik music video. Furthermore, Shiva Pariyar has added their sweet voice to make the song more melodious like adding good smell in gold. In this music video, He has compare the life with the page of book. The music video was arranged by Babul Giri. When you once listen this song, I am sure you will keep repeating it.
The music video is released officially online by MANORANJAN NEPAL via Youtube. Hope that you will enjoy this melodious aadhunik song Jiban Yauta Kitaba.
Here is the lyrics for Jiban Yauta Kitaba:
Jiban auta kitab ho
Koe yeslai jalaucha ta
Koe yeslai dhuja dhuja
Parcha panna chiyatera

Jiban auta kitab ho
Koe yeslai jalaucha ta
Koe yeslai dhuja dhuja
Parcha panna chiyatera…..

Pannai picha barbaraucha koe
Dhuniyalai bhulayera
Bhagya aafai kordai janchan koe
Due haat pau chalayera
Jasla sodhi khojhi rahancha
Bitri afno pan ko mitnu chha
Bhoka piyasha chahana
Sajhilai yo mann ko
Sajhilai yo mann ko
Jiban auta kitab ho
Koe yeslai jalaucha ta
Koe yeslai dhuja dhuja
Parcha panna chiyatera…..

Kahani yo jiban ko
Bhujhi dine ko hola
Ramro saga artha launa sakna
Dhuniya ma ko hola
Paelai picha milcha sukha santi
J cha tai ma ramaye
Aatma mai huncha giyan ko muhan
Belai ma teslai jaane
Belai ma teslai jaane
Jiban auta kitab ho
Koe yeslai jalaucha ta
Koe yeslai dhuja dhuja
Parcha panna chiyatera

Jiban auta kitab ho
Koe yeslai jalaucha ta
Koe yeslai dhuja dhuja
Parcha panna chiyatera…………