Junalai by Rajesh Payal Rai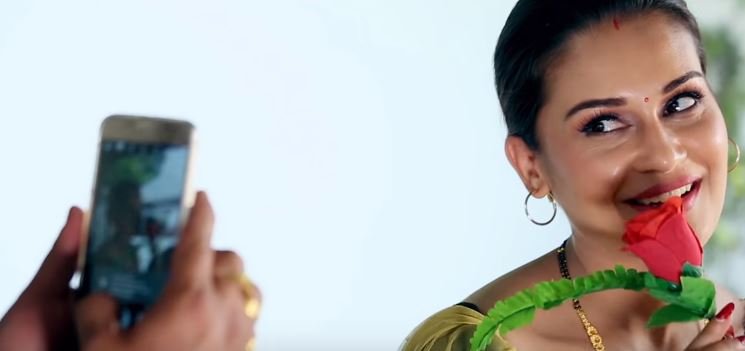 Junalai is a new aadhunik Nepali song by Rajesh Payal Rai. The music video features Reema Bishwokarma Anoop Yonjan, Manish and Kamal. Junalai is a Nepali song which is directed by Sulochana Theeng and Anoop Yonjan. The music video was edited by Tekendra Shah and was cinematographed by GB Lama.
The music for this song is composed by Suman Rai and lyrics was written by Santosh Rai. The music video features versatile hot model Reema Bishwokarma. Reema Bishwokarma is one of the hot and sexy model of this music video industry. She has given her outstanding performance in this sentimental music video. The vocal was given by multi talented, gorgeous well known playback singer Rajesh Payal Rai.  When you once listen this song, I am sure you will keep repeating it.
The music video is released officially online by SongsNepal via Youtube. Hope that you will enjoy this melodious modern song Junalai.
Here is the lyrics for Junalai:
Junalai chuna khojhe sadai
Timrai huna khojha

Junalai chuna khojhe sadai
Timrai huna khojha
Hajarau ko hula bitra
Timilai matra rojhe
Tara kaha pauna sake timilai
Ekohoro heri base Heri base
Junalai chuna khojhe sadai
Timrai huna khojha…..

Timro samu auna mero
Aata kaha bhayo ra

Timro samu auna mero
Aata kaha bhayo ra
Parae ko angalo ma
Timi badhiyeko bela
Kae k dhayo ni nayan le
Timro tyo muhar ma
Tara kaha pauna sake timilai
Ekohoro heri base Heri base…..

Thaha theyo yo juni ma
Timro banna sakdina ma

Thaha theyo yo juni ma
Timro banna sakdina ma
Tara kina Yo mann le
Timilai chaye raho
Kae k dhayo ni nayan le
Timro tyo muhar ma
Tara kaha pauna sake timilai
Ekohoro heri base Heri base…………