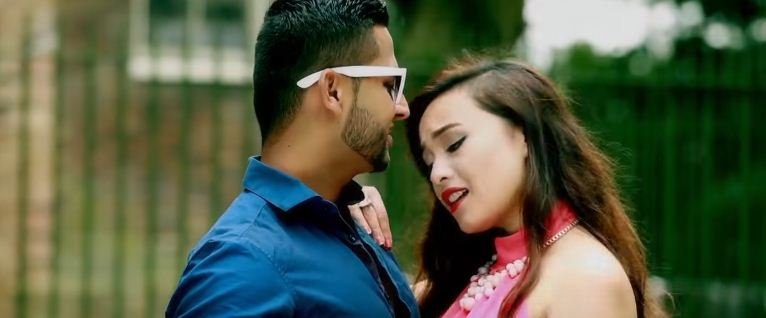 Juni Juni is a new Nepali aadhunik pop song by Anju Panta from her album Aahan Arko Khushi. The music video features Bidur and Sara. Juni Juni is a music video arranged by Gopal Rasaili and edited and directed by Kushal Sherstha. This music video was shot in UK and produced by KK movies.
The music composition for this song was done by Arjun Pokhrel and lyrics were written by Nripesh Upreti. Juni juni is a music video that stars two of the good-looking actors/model Bidur and Sara. The wardrobe and make over for the actors in Juni Juni was supervised under make-up artist Shradha Maskey and fashion designer Anjali K.C. In this music video, you will get to see the love and romance between Sara and Bidur. The appealing outlook of Sara has made this music video more attractive. Juni Juni is a song based on love among people in young ages. Here, Sara confesses her love for Bidur and that her life without him is incomplete and she will not be able to survive without him. Sara solely admires Bidur and is longing for Bidur's love. Juni Juni is a presentation of The Divine Music and is a complete entertaining package for every Nepali song lovers. I am sure you will love this song and tune repeatedly when you once play it.
This music video is officially released online by Budha Subba Digital Pvt. Ltd. via YouTube. Hope you guys will enjoy this modern pop song "Juni Juni".
Lyrics for Juni juni by Anju Panta
Kada panchhai bato bhari
Fulai fula chhari dine

Ho Kada panchhai bato bhari
Fulai fula chhari dine
Udas yo mannma
Khusi nai khusi bhari dine
Yo juni maa
Sakdina ma tirna timro guna
Juni juni harek juni timi merai bana
Juni juni harek juni timi merai bana

Timi bina mero jiban
Jahar huntho hola

Timi bina mero jiban
Jahar huntho hola
Sunami le bagayeko
sahar huntho hola
Jiban jiune kaha malai
Rahar huntho hola
Sarthak chha mero jiban
Timi nai karana
Juni juni harek juni timi merai bana
Juni juni harek juni timi merai bana

Uh janma ko punya mero
Timi sathi paye
Uh janma ko punya mero
Timi sathi paye
Diniya ma sabai bhanda
Timi jaati paye
Mero lagi eswor bhanda
Timi mathi paaye
Timrai sath le Sumadhur chha
Mero jiban ko dhuna
Juni juni harek juni timi merai bana
Juni juni harek juni timi merai bana
Juni juni harek juni timi merai bana