Juni Juni Timrai by Pramod Kharel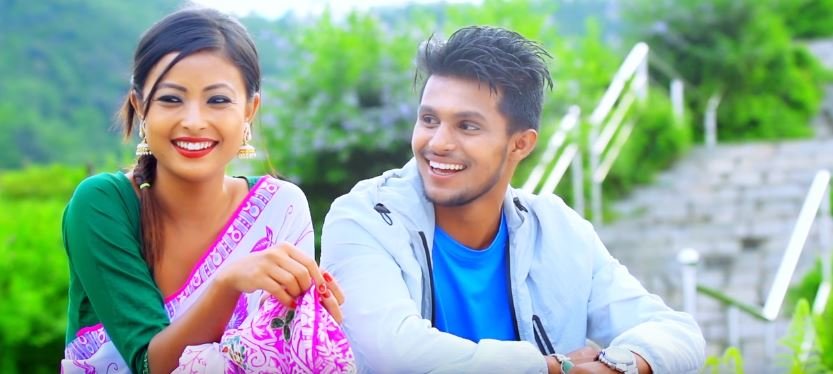 Juni Juni Timrai is a new Nepali aadhunik song by Pramod Kharel. The music video features Kristina Thapa, Dinesh Baduwal and Binod Jyoti. Juni Juni Timrai is a Nepali song which is directed by Sisir Shrestha. The music video was edited by Amrit Chapagain and was cinematographed by Mukesh Humagain.
The music for this song was composed by Rajkumar Bagar and lyrics was written by Indraman Khoraja Pun. The music video features versatile model Kristina Thapa. Kristina Thapa is a hot and sexy model who has given her best performance for making this music video good. The melodious voice is given by versatile singer Pramod Kharel. Nepali singer Pramod Kharel is playback singer. This music video shows unsuccessful love between Kristina Thapa and Dinesh Baduwal.  When you once listen this song, I am sure you will keep repeating it.
The music video is released officially online by Music Nepal via Youtube. Hope that you will enjoy this modern song Juni Juni Timrai.
Here is the lyrics for Juni Juni Timrai:
Juni Juni Timrai huna
paaye kasto huntheyo hola
Paaye kasto huntheyo hola

Juni Juni Timrai huna
Paaye kasto huntheyo hola
Paaye kasto huntheyo hola
Na ta mutu dhukhatheyo hola
Na ta mannai runtheyo hola
Na ta mannai runtheyo hola
Timilai pauna na sake ni
Timro maya paye
Asambhav cha timilai pauna
Tara kina chaye
Juni Juni Timrai huna
Paaye kasto huntheyo hola
Paaye kasto huntheyo hola……

Kati khusi laageko theyo
Timi sanga bhet huda

Kati khusi laageko theyo
Timi sanga bhet huda
Na ramaelo lageko theyo
Chutnu pari mann ruda
Garo huncha chodna pheri
Mero haat na samae dau
Mero haat na samae dau
Jhan jhan maya lagcha malae
Mero cheuma bho na ae dau
Mero cheuma bho na ae dau
Timilai pauna na sake ni
Timro maya paye
Asambhav cha timro huna
Tara kina chaye
Juni Juni Timrai huna
Paaye kasto huntheyo hola
Paaye kasto huntheyo hola……

Phula phulda dhekhana paena
Faale pachi matra dhekha

Phula phulda dhekhana paena
Faale pachi matra dhekha
Chautari ma bhetna paena
Dobato ma balla bhete
Timi raechau naaso koe ko
Ma aru kai pare naaso
Ma aru kai pare naaso
Na ta ashu badna paye
Na ta badna paye haso
Na ta badna paye haso
Timilai pauna na sake ni
Timro maya paye
Asambhav cha timro huna
Tara kina chaye
Juni Juni Timrai huna
Paaye kasto huntheyo hola
Paaye kasto huntheyo hola…………