Jyan Maya Timilai by Anju Panta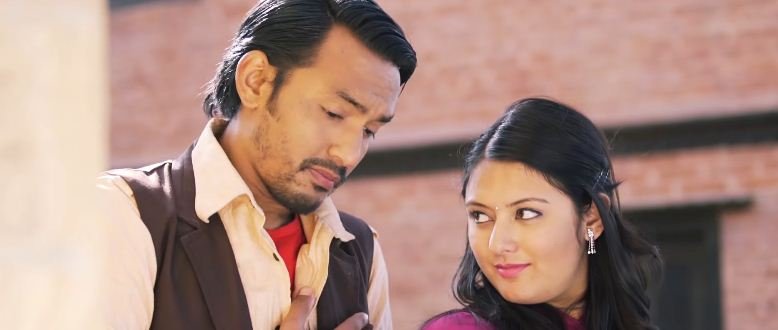 Jyan Maya Timilai is an aadhunik pop new Nepali duet song by Anju Panta and Uttam Thapa UD from album "Ka Kha Ra". This music video features Barsha Raut and Gambhir Bista. Jyan Maya Timilai is a beautiful dance version choreographed by Gambhir Bista himself, cinematographed by Arjun Tiwari and edited by Bharat Regmi. Subrat Tiwari has directed this music video.
The musical composition for this music video was done by Rajan Raj Shiwakoti while lyrics were articulated by Raju Babu Shrestha. Jyan Maya Timilai is a romantic duet song that stars model/actor Barsha Raut and Gambhir Bista. Their performance in this song is impeccable. In this music video, you will see growing love of Barsha and Gambhir. The chemistry of these two actors is picture-perfect. This music video is quite different from other any aadhunik video song and is full entertaining package for viewers. Chand Singh has arranged the full set up for this video song. Jyan Maya Timilai was recorded in V Records Company and was post-produced by SZ Creation. I am sure, when you once listen to this song, you will likely tune repeatedly.
The music video is released officially online by Budha Subba Digital Pvt. Ltd via YouTube. Hope you guys will enjoy this beautiful song "Jyan Maya Timilai".
Lyrics for Jyan Maya Timilai:
Titi riti titti riti titi riti

Ghamai ma pare chheki diula
Sitai ma pare seki diula
Pari ma aaye hasi hasi
Yo mero jyanai di diula
Mann raja timilai

Ghamai ma pare chheki hai diula
Sitai ma pare seki diula
Ghamai ma pare chheki hai diula
Sitai ma pare seki diula
Pari ma aaye hasi hasi
Yo mero jyanai di diula
Mann raja timilai
Mann raja timilai
Mann raja timilai
Mann raja timilai

Pani hai pare chhatai banaula
Huri hai aaye ota diula
Maya ko lagi jyan bhanda thulo
Yo mero mannai di diula
Jyan maya timi lai

Pani hai pare chhatai banaula
Huri hai aaye ota diula
Pani hai pare chhatai banaula
Huri hai aaye ota diula
Maya ko lagi jyan bhanda thulo
Yo mero mannai di diula
Jyan maya timi lai
Jyan maya timi lai
Jyan maya timi lai
Jyan maya timi lai

Lai lai lai lai lai

Aankha ko nani banai rakhula
Manna ki rani banai rakhula

Aankha ko nani banai rakhula
Maya ko dhani banai rakhula

Dukkha hai pare aafai jhelaula
Harpal hasi khusi rakhaula

Dukkha hai pare aafai jhelaula
Harpal hasi khusi rakhaula

Harpal hasi khusi rakhaula

Jyan maya timi lai
Jyan maya timi lai
Mann raja timilai
Mann raja timilai
Jyan maya timi lai
Jyan maya timi lai
Mann raja timilai
Mann raja timilai