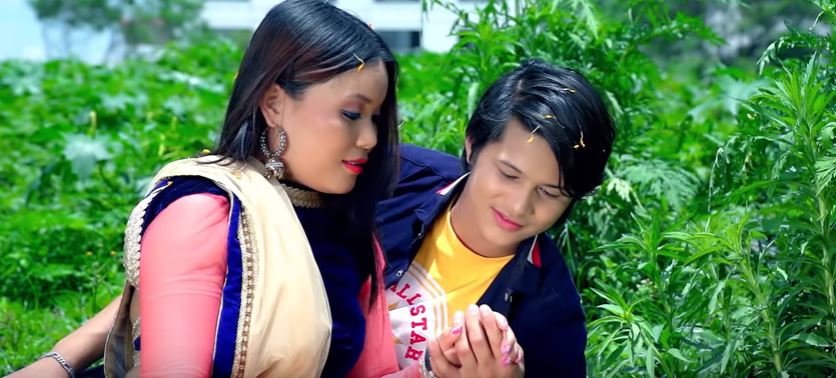 Kaha Chhau is a new emotional modern song by Jiwan K.C. The music video features Ganesh, Pratichhya and Jiwan. Kaha Chhau is a Nepali modern song which represents the pain of unsuccessful love. This music video is directed by Prakash Chhetri. The music video was edited by Anil Rana and was cinematographed by Keshav Adhikari.
The lyrics as well as music was composed by Hari Kaji Khadka. Pratichhya is gorgeous and well known model in music industry and given her best performance for many other music videos. In Kaha Chhau music video, she has performed with another two handsome multi-talented model Ganesh and Jiwan. The music video was post production by Sarba Samman Music Pvt. Ltd and was presented by Sarba Samman Music. When you once listen this song, I am sure that tears will not hold in your eyes.
The music video is released officially online by HighlightsNepal via Youtube. Hope that you will enjoy this melodious sentimental modern song Kaha Chhau.
Here is the lyrics for Kaha Chhau:
Maela maya jiban ma
Uni sangai laye
Sangai jiuna sagai marne
Bacha kasam khaye
Maya bhannu aashu nai rayecha
Dhokai dhoka khaye
Thaha paye Maela
Maya jiban ma
Uni sangai laye….

Kasari bhulna sakau
Timile Ishwor sachi
Rakhi kasam khako
Maela bhulna sakina
Deurali ma Mitha kura
Gardai maya lako
Mitha kura
Gardai maya lako
Maela maya jiban ma
Uni sangai laye…..

Timile jiyau maela
Hare Jiban ma
Bachane pani mari
Sake aasha
Ekai choti hune bho
Timro dholi
Mero bhanechi chita
Mathi lasa
Mero bhanechi chita
Mathi lasa
Maela maya jiban ma
Uni sangai laye

Sangai jiuna sagai marne
Bacha kasam khaye
Maya bhannu aashu nai rayecha
Dhokai dhoka khaye
Thaha paye Maela
Maya jiban ma
Uni sangai laye……………