Kahile Hasauchhau by Melina Rai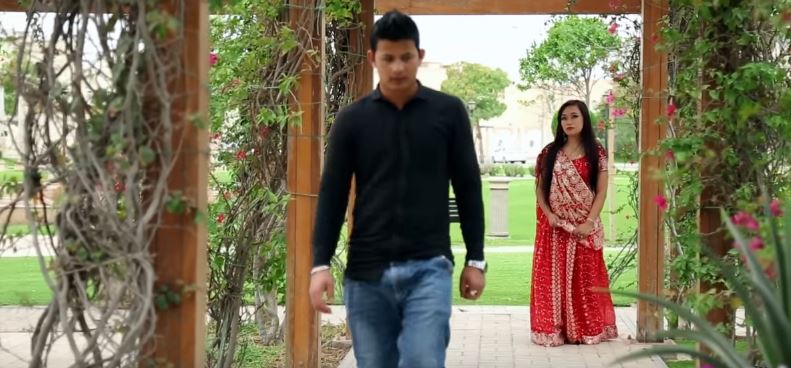 Kahile Hasauchhau is a new modern song by Melina Rai. The music video features Mahesh Karki and Reema Lama. Kahile Hasauchhau is a Nepali song by Melina Rai which is directed by Bhabindra Tamang. The music video was post production by Selfie Tv.
The music for this song was composed by Tanka Budhathoki and lyrics was written by Reema Lama. Nepali singer Melina Rai is playback singer. Melina Rai's voice is as beauty as her personal appealing. She is a good singer who think a lot of different things in a performance. It is the full package of romance, hater and love story song. Kahile Hasauchhau is a emotional song which touch the heart of all listeners. The music video features Reema Lama who is beautiful and rising model and performed hundreds of music videos. When you once listen this song, I am sure you will keep repeating it.
The music video is released officially online by SongsNepal via Youtube. Hope that you will enjoy this melodious aadhunik song Kahile Hasauchhau.

Here is the lyrics for Kahile Hasauchhau:
Kaela hasauchhau timile
Kaela ruwauchhau
K galti bhayo ra mero
Sajhae kchha hanchhau

Kaela hasauchhau timile
Kaela ruwauchhau
K galti bhayo ra mero
Sajhae kchha hanchhau
Mutu bitra rakha timilai
Mann ma sajhaye
Aafu lai bhanda bhadi
Maya timilai gare
Aafu lai bhanda bhadi
Maya timilai gare…..

Timi bhayek koe chaena
Maya timilai garchhu
hooo Timi bhayek koe chaena
Maya timilai garchhu
Timile pani chadi gaye
Ma ta tesai marchhu
Kaela phakauchhau timile
Kaela risauchhau
K galti bhayo ra mero
Sajhae kchha hanchhau
Mutu bitra rakha timilai
Mann ma sajhaye
Aafu lai bhanda bhadi
Maya timilai gare
Aafu lai bhanda bhadi
Maya timilai gare…..

K maela timilai chokho
Maya garina ra
hooo
K maela timilai chokho
Maya garina ra
K maela timilai sadai
Satha diyena ra
Kaela mann dhukhauchhau timile
Kaela manauchhau
K galti bhayo ra mero
Sajhae kchha hanchhau
Mutu bitra rakha timilai
Mann ma sajhaye
Aafu lai bhanda bhadi
Maya timilai gare
Aafu lai bhanda bhadi
Maya timilai gare…………