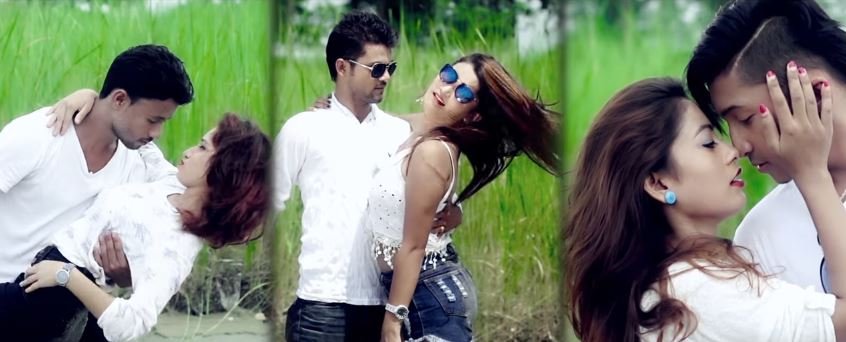 Kanchhi ko is a New Melodious Romantic Pop Song by Sameer B.K. The music video features actor and actress are Hari, Suman, Milan, Rojina, Bina and Parmila. Kanchhi ko is a Nepali song by Sameer B.K which is directed by Bibek Hingmang. Kanchhi ko music video was edited by Heman Yonjan.
The music as well as lyrics of this song was composed by Sandeep Karki. Nepali singer Sameer B.K is playback singer. Kanchhi ko music video is choreographed by Unik Dance Center. When you once listen this song, I am sure you will keep repeating it. Within a week this song crossed around 15,571 viewers. Overall, Sameer B.K  Kanchhi ko is a nice and smoothing song with great melody.
The music video is released officially online by SongsNepal via Youtube. Hope that you will enjoy this Romantic Aadhunik Pop Song Kanchhi ko.
Here is the lyrics for the song:
Kanchhi ko
Allara jowana
Satauna malae
Ko bhanna
Kanchhi ko
Allara jowana
Satauna malae
Ko bhanna
haaa
Kanchhi ko
Allara jowana
Satauna malae
Ko bhanna
Ha kura kani ma
Garna aau ki
Bhana k garna ho
Lauchau kita chokho maya…

Bhandai chu
Ma jhuto ho
Biswas gari herana
Chirara dhakhauchu ma
Maya bhariyacha bhujhana
Timro satha ma dinchu ni
Juni juni lai
Bhawana mero bhujhachau ki
Ha kura kani ma
Garna aau ki
Bhana k garna ho
Lauchau kita jhilke maya…

Todhadina ma kasam yo
Mardako boli bho
Suekara preeta mero
Parla runu bholi ho
Sakdina bachanu ma ek pal
Timi bina
Bhujhana kanchi ek choti ho
Ha kura kani ma
Garna aau ki
Hatta magna ho
Janchau kita pari ghara
Khanchau mitho phala…

Kanchhi ko
Allara jowana
Satauna malae
Ko bhanna
Ha kura kani ma
Garna aau ki
Bhana magna ho
Lauchau kita chokho maya…