Karmai Khoti by Anju Panta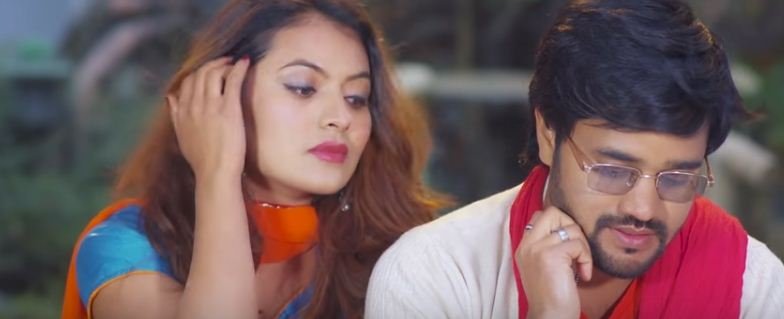 Karmai Khoti is a new Nepali aadhunik song by Anju Panta. The music video features Sanam Kathayat and Supriya. This music video was cinematograph by Utsav Dahal and edited by Tekendra Shah. Karmai Khoti is a sentimental Nepali song directed by Radha Krishna Acharya.
The instrumental set up for this music video was done by Raj Kumar Bagar and lyrics were articulated by Babi Gurung "Nischhal". The music video stars one of the best model/actress Supriya and Sanam. They are versatile, talented and hardworking faces of Nepali music videos. Karmai Khoti is an aadhunik Nepali sad song that reveals the bitter truth of devastating Break ups. Love is a thing that makes our life wonderful. The magical feeling of love arouses by seeing someone whom he/she adores to the point wherein let the feeling of butterflies tickle in their belly. But when this feeling gets crashed out, the whole life seems cracked and then you are wandering alone around. The life before filled with joy gets darkened and of no worth. People not being success in love affairs consequently blames their fate. Betrays is the worst feeling ever to have. These similar stuffs are crafted in this music video. This music video was recorded in Everest Gallery Pvt. Ltd. I'm sure when you once listen to this song, you will keep repeating it.
This music video is officially released online by Music Nepal via YouTube. Hope you will love this melodious song Karmai Khoti.
Lyrics of Karmai Khoti by Anju Panta:
Karmai khoti raichha mero
Dui dinamai chhutyo maya
Karmai khoti raichha mero
Dui dinamai chhutyo maya
Timrai hune sapna thiyo
Timrai hune sapna thiyo
Sisa jastai futyo maya
Sisa jastai futyo maya
Karmai khoti raichha mero
Dui dinamai chhutyo maya

Aafnai jiban lagchha aaja
Ekades ko katha jasto
Hoo.. Aafnai jiban lagchha aaja
Ekades ko katha jasto
Timi gayeu bhaaki chhu ma
Timi gayeu bhaaki chhu ma
Paangra bihin rath jasto
Paangra bihin rath jasto
Thaha chain bina karan
Khai kasari tutyo maya
Timrai hune sapna thiyo
Timrai hune sapna thiyo
Sisa jastai futyo maya
Sisa jastai futyo maya
Karmai khoti raichha mero
Dui dinamai chhutyo maya

Saasa ferna bhule pani
timlai kahilai bhulne chhaina
hoo.. Saasa ferna bhule pani
timlai kahilai bhulne chhaina
phool jhai bhuima jharyo jiban
phool jhai bhuima jharyo jiban
Aba kahilai phoolne chhaina
Aba kahilai phoolne chhaina
Daibale nai bhetai diyo
Daibale nai lutyo maya
Timrai hune sapna thiyo
Timrai hune sapna thiyo
Sisa jastai futyo maya
Sisa jastai futyo maya
Karmai khoti raichha mero
Dui dinamai chhutyo maya