Ke Sundaichhu by Ankit Pariyar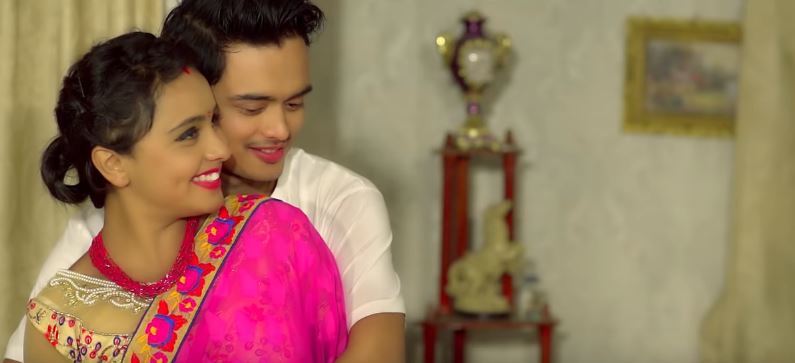 Ke Sundaichhu is a new aadhunik sentimental pop song by Ankit Pariyar. The music video features Kamal, Karishma and Sudharsan. Ke Sundaichhu is a Nepali song by Ankit Pariyar which is directed by Pradip Gyawali. Ke Sundaichhu music video was Cinematographed by Mithun Kiran Thapa and music video was edited by Anil Rana.
The music of this song was composed by Tanka Budhathoki and Lyrics of this song is written by Rajesh Aryal. The music video is featuring by Karishma. Ke Sundaichhu is a heart touching sentimental song. We know that Everybody knows how to love but few people know how to stay in love with one person forever. This music video has justify this statement. Here, Karishma isn't satisfied with the love of Kamal. So that she has break the trust of kamal and start to love Sudharsan. This song also shows that why people drinks alcohol in their life. Ke Sundaichhu music video was post production by Samman Music Pvt. Ltd and recorded at Studio 9. When you once listen this song, I am sure you will keep repeating it.
The music video is released officially online by HighlightsNepal via Youtube. Hope that you will enjoy this melodious aadhunik sentimental song Ke Sundaichhu.

Here is the lyrics of Ke Sundaichhu:
Ke Sundaichhu aja maela
Timro barai ma
Sathi bhai halla garchan
Timrai name ma

Ke Sundaichhu aja maela
Timro barai ma
Sathi bhai halla garchan
Timrai name ma
Sunna sakina timro naramro
Purauna sakina chhu
Timila chayeko
Sunna sakina timro naramro
Purauna sakina chhu
Timila chayeko….

Jhuto maya launu theyo ta
Bacha kina khayau
Mitho sapana dhekhayera
Kina aela chodau

Afno bhannu timi theyau
Aja bhayau tadha
Timro maya yaad bani
Dincha malae pida
Aakha bata ashu jharcha
Thamna sakina
Timra lagi hira motti
Kinna sakina
Sunna sakina timro naramro
Purauna sakina chhu
Timila chayeko
Sunna sakina timro naramro
Purauna sakina chhu
Timila chayeko….

Mero nimti marne timi
Gayau parae sanga
Timra ti bacha kasam
Bhaye bhata bhunga

Timrai yaad ma
Bacheko theya
Kina garau ghata
Juni juni jiunu theyo
Kina chodau satha
Aja mero mutu polcha
Thamna sakina
Timra lagi hira motti
Kinna sakina
Sunna sakina timro naramro
Purauna sakina chhu
Timila chayeko
Sunna sakina timro naramro
Purauna sakina chhu
Timila chayeko………