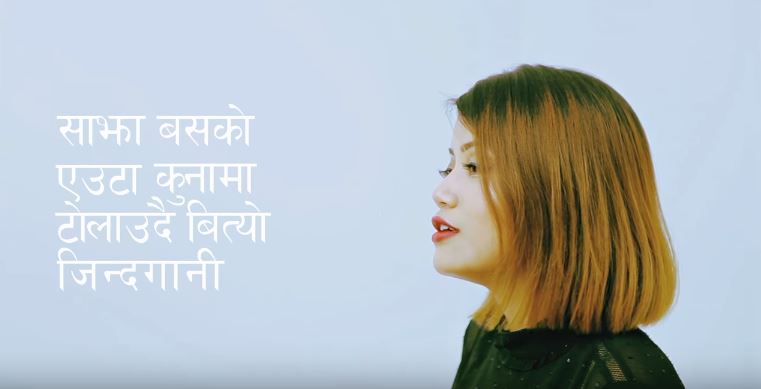 Khai is a new Pop Nepali song by Bartika Eam Rai. This song is taken from her album "Bimbaakash". This is the main song from "Bimbaakash". From song Bartika expressing her internal feeling. Song includes all feelings of loneliness, feelings of loved, feeling of remembering, and numerous other feelings.
The music and the lyrics for this song was done by Bartika Eam Rai. The song was produced and mastered by Diwas Gurung while the audio art was done by Priyanka Bhattarai and Sworup Ranjit. The vocal was given by the singer Bartika herself. At a time when emerging talents of the industry seemingly focus on performing cover songs, she has focused extensively on recording and producing originals, the lyrics of which she writes herself. This song is full of human emotions and one of the most viewed and loved song by music lovers. This song have unique lyrics, music and the representing style which shows the life cycle of human who are chasing success and achievement. When you once listen this song, I am sure you will keep repeating it. 
The music video is released officially online by Bartika Eam Rai via Youtube. Hope that you will enjoy this romantic song.
Here is the lyrics for the song Khai:
Bihani Saberai Jurukka Uthera
Dugurchau Khai K Lakhsya Samatna
Rahar Ko Katha Ho Thotro Ritto
Eka Ek Gumsiyeko
Sajha Bus Ko Euta Kuna Ma
Tolaudai Bityo Jindagani
Ta Timrai Agadi
Oilidai Cha K Garyou Akhir Khushi Ko Lagi
Sapanako Ghar Timro
Ekadeshma Thadayethayou
Purdai Chau Aja Afnai Sapana Lai
Nirdosh Timi Atha Hai Nasochi

Jaau Harau Khushima Tripta
Timi Timi Lai Nai Pau
Herana Afu Lai Timi
Kati Bhayo Khulera Haseko
Kati Bhayo Nirdhakka Bacheko

Khoji Hidyou Maya Sara
Khokro Pasal Haruma
Tara Kahiley Bujhna Sakenau
Akhir Ma Bhawana Badlanchan
Mausamai Sari
Chaharhcau Galli Samjhana Ma
Chihauchau Badal Lai Ekohoro
Kina Bujhenau Aja Samma
Samaya Tyo Gayo Agadi Badha Na

Sapanako Ghar Timro
Ekadeshma Thadayethayou
Purdai Chau Aja Afnai Sapana Lai
Nirdosh Timi Atha Hai Nasochi

Jaau Harau Khushima Tripta
Timi Timi Lai Nai Pau
Herana Afu Lai Timi
Kati Bhayo Khulera Haseko
Kati Bhayo Nirdhakka Bacheko

Bihani Saberai Jurukka Uthera
Dugurchau Khai K Lakhsya Samatna
Rahar Ko Katha Ho Thotro Ritto
Eka Ek Gumsiyeko
Sajha Bus Ko Euta Kuna Ma
Tolaudai Bityo Jindagani
Ta Timrai Agadi
Oilidai Cha K Garyou Akhir Khushi Ko Lagi