Khusi By Bartika Eam Rai (Audio)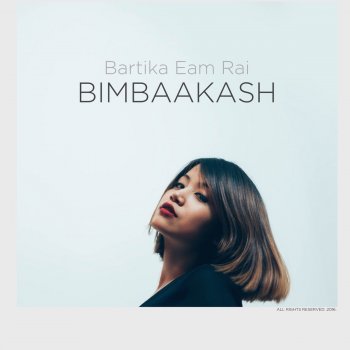 Khusi is a new pop song by Bartika Eam Rai and taken from her album "Bimbaakash". As like her other songs, in this song too she explains the struggle of life in different situations along with the feelings of love. She seems to be optimistic towards life goals in this song.
The lyrics and music for this song was composed by Bartika Eam Rai and she herself sang the song. Its her nature to write, compose and give voice to the written lyrics. She is one of the rising singer of Nepali music industry. Beside singer, writer, composer she is also a successful RJ and teacher. She loves singing from her school days and she never missed chance to perform in school functions. Khusi song simply explains the happiness of human not only comes from success but also from struggle and failure too. When you once listen this song, I am sure you will keep repeating it.
The music video is released officially online by Music Nepal via Youtube. Hope that you will enjoy this melodious aadhunik song Khusi.
Here is the lyrics for the song:
Ho Socheko Jasto
Ta Bhayena Yo Juni
Bitayou Kati Chisa Sajh Haru
Tyahi Derako Purano Kothama
Khoji Hidyou Kati Afai Lai
Yathartha Ta Hami Sabailai
Jiskaunu Jiskayekai Ho Ni
Tara Pani Hasi Hasi
Jiwan Bhari Datera Ladyou
Saharma Bitayou Kati Ritto Rata
Rahar Bhulai Arukai Nimti

Timi Mero Kewal
Nyano Samjhanama
Timra Katha Haru
Khushi Baddai Bhannechu Ma

Timi Jaha Chau Tyahi Hos Sadhai
Yahi Chadaniko Prakash
Yahi Suryako Maya, Tara Hunn
Timro Aakash Bhari Chakamanna

Timro Lagi Sadhai,
Sabai, Khushi
Timro Lagi Sadhai,
Sabai, Khushi

Suruwat Ta Timro Aru Sabaiko
Tyahi Bindubata Bhayo
Matra Pugechan Aja Aru
Dherai Dherai Agadi
Timi Bhane Aafno Manalai
Pachayudai Lagyou Afno Bato
Aja Wu Safal Re Timi Asafal Re
Safalta Asafalta Khai Kasle Bujhya Cha?

Timro Ekohoro Sangharsalai
Samajle Nadekhey Ni Maile Dekhya Chu
Timi Mero Kewal
Nyano Samjhanama
Timra Katha Haru
Khushi Baddai Bhannechu Ma

Timi Jaha Chau Tyahi Hos Sadhai
Yahi Chadaniko Prakash
Yahi Suryako Maya, Tara Hunn
Timro Aakash Bhari Chakamanna

Timro Lagi Sadhai,
Sabai, Khushi
Sathi, Timro Lagi Sadhai,
Sabai, Khushi