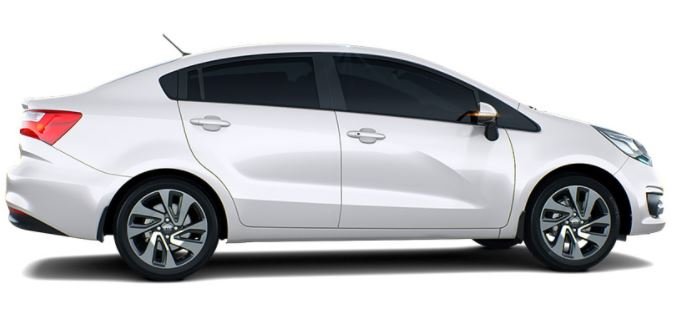 Manufactured by Kia, a South Korean automobile company, the Kia Rio is a subcompact car which came into production from the year 2000. The Kia Rio too has gone through different generational and currently is in fourth generation. Moreover, the car is available in both five-door hatchback and four-door sedan version.
Furthermore, in 2015, the car was world's best-selling model manufactured by Kia with selling more than 473,000 quantities. The Kia Rio features unswerving lines and plane surfacing appearance that gives car a unique, an assured and brand new look.
Moreover, the Kia has been exporting its cars in Nepal under the dealership of Continental Associates Private Limited. Also, the car is available in 4 various variants; two hatchback and two sedans.
Price in Nepal: Rs. 4,100,000 [For Rio EXI (4 Doors/Hatchback)],
Rs. 4,200,000 [For Rio EXI (5 Doors/Sedan Version)],
Rs. 4,700,000 [For Rio EXII (4 Doors/Hatchback)],
Rs. 4,800,000 [For Rio EXII (5 Doors/Sedan)]
Specifications
Dimension:
| | |
| --- | --- |
|  Body Type |  Hatchback / Sedan |
|  Basic Weight |  NA |
|  Length |  4045 mm (4 Doors) / 4365 mm (5 Doors) |
|  Height |  1455 mm (4 Doors) / 1455 mm (5 Doors) |
|  Wheelbase |  2570 mm (4 Doors) / 2570 mm (5 Doors) |
|  Front Track |  NA |
|  Rear Track |  NA |
|  Ground Clearance |  NA |
Engine:
| | |
| --- | --- |
| Fuel Tank |  43 liters (Both 4 and 5 Doors) |
|  Cylinders |  NA |
|  Valves Per Cylinder |  NA |
|  Displacement | 1396 cc (Both 4 and 5 Doors) |
|  Max Power |  108 bhp (Both 4 and 5 Doors) |
|  Max Torque |  135 Nm (Both 4 and 5 Doors) |
Dynamics:
| | |
| --- | --- |
| Front Brakes |  Disc (Both 4 and 5 Doors) |
| Rear Brakes |  Drum (Both 4 and 5 Doors) |
| Front Wheels |  NA |
| Rear Wheels |  NA |
| Front Suspensions |  McPherson Struts, Gas Shock Absorbers, Stabilizer Bar (Both 4 and 5 Doors) |
| Rear Suspensions |  Coupled Torsion Beam Absorbers (Both 4 and 5 Doors) |
Transmission:
| | |
| --- | --- |
|  Transmission |  Manual (Both 4 and 5 Doors) |
|  Number of Gears |  6 (Both 4 and 5 Doors) |