Kina Chodi Gayeu (Audio) by Lakshya Khatri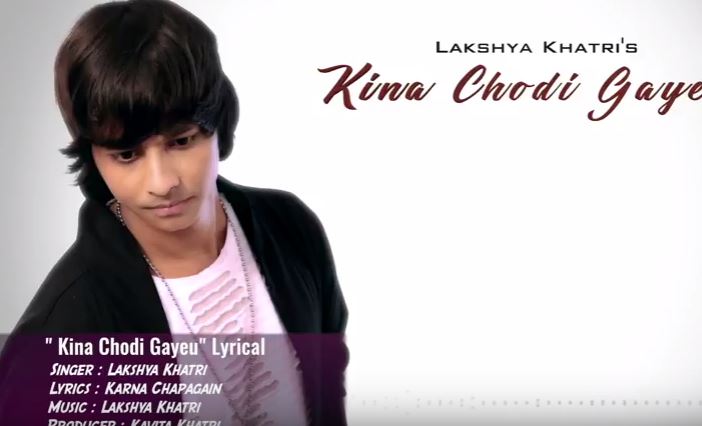 Kina Chodi Gayeu is a new sad Nepali melodious song by Lakshya Khatri. He is innovative, energetic and multidimensional young singer. This music video is just a simple recording version during the recording of the song.
The music for this song is composed by Lakshya Khatri and lyrics was written by Karna Chapagian. This music tries to represent the important of love, relation of lovers and other promise of love. This song deliver the message that Don't lie to people that trust you, and don't trust people that lie to you. Singer Lakshya Khatri was expressing his feeling from this song. When you once listen this song, I am sure you will keep repeating it.
The music video is released officially online by Singer Lakshya Khatri via Youtube. Hope that you will enjoy this melodious sad song Kina Chodi Gayeu.
Here is the lyrics for Kina Chodi Gayeu:
Timi tadha bhayeni
Timro maya tadha nahos

Timi tadha bhayeni
Timro maya tadha nahos
Timi parai bhayeni
Timro yaad parai nahos
Afanai samjhi maya garda pani
Kina chodi gayau
Kina chodi gayau
Timi tadha bhayeni
Timro maya tadha nahos…..

Mutu mero chiya chiya paryau ni
Dhoka die antai basae sarau ni

Mutu mero chiya chiya paryau ni
Dhoka die antai basae sarau ni
Dil dhadkan le aja pani timilai
Samjhi rahancha Samjhi rahancha
Timi tadha bhayeni
Timro maya tadha nahos
Timi parai bhayeni
Timro yaad parai nahos…..

Saatha timro ho bhagyama rahincha
Runna bhanchhu tara aashu bahincha

Saatha timro ho bhagyama rahincha
Runna bhanchhu tara aashu bahincha
Mann mandir ma sadai bhari timinai
Basi rahanchau basi rahanchau
Timi tadha bhayeni
Timro maya tadha nahos
Timi parai bhayeni
Timro yaad parai nahos…………