Kina Malai Yesto By Deepesh Kishwor Bhattarai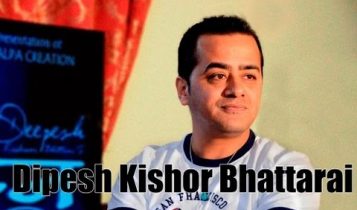 Kina Malai Yesto is a new Nepali pop song by Deepesh Kishwor Bhattarai. This song is taken from the one of the famous album of the Deepesh "Fortune". The audio was done by Taal Music. This music represents the pain of human while betrayed by the loved ones.
The song is very heart touching. Here Deepesh represents the imaginary story which is carried out by video. He was hurt by his girlfriend. This song is  melodious and awesome because it is represented with very beautifully and the melodious vocal of the Deepesh decorate it with back power. Dipesh K. Bhattarai is the Nepalese star and contributed lot in Nepali music. Some of his musical hits such as Hosh Haraye Pani, Fortunes, Forever were the best albums and they were able the stay in Heart of the listeners. When you once listen this song, I am sure you will keep tuning it.
The music video is released officially online by Test Man via Youtube. Hope that you will enjoy this melodious pop song Kina Malai Yesto.
Here is the lyrics for the song Kina Malai Yesto:
Kina Malai yesto garyou
Ma ta testo kahile theeyeena
Kina Malai yesto garyou
Ma ta testo kahile theeyeena

Timilai maya maile garekai thiye
Timilai maya maile garekai thiye
Sara Khusi Timilai
Nai Dinchhu Bhanekai Thiye
Sara Khusi Timilai
Nai Dinchhu Bhanekai Thiye
Kina Malai yesto garyou
Ma ta testo kahile theeyeena

Kasari ma bhulna sakchhu
Timile diyeko bacha
Sakeko chhaina ma nidaauna
Timilai samjhera din raat
Kasari ma bhulna sakchhu
Timile diyeko bacha
Sakeko chhaina ma nidaauna
Timilai samjhera din raat
Kasari bhayou biraano
timilai nai sodhchhu aaja
Kasari bhayou biraano
timilai nai sodhchhu aaja
Kina timro mann badlidiyo
Mero mann ta testai thiyo

Kina Malai yesto garyou
Ma ta testo kahile theeyeena
Timilai maya maile garekai thiye
Timilai maya maile garekai thiye
Sara Khusi Timilai Nai
Dinchhu Bhanekai Thiye
Sara Khusi Timilai Nai
Dinchhu Bhanekai Thiye
Kina Malai yesto garyou
Ma ta testo kahile theeyeena

Heeee he hey hey