Kina Phul Chudera by Gangaram Acharya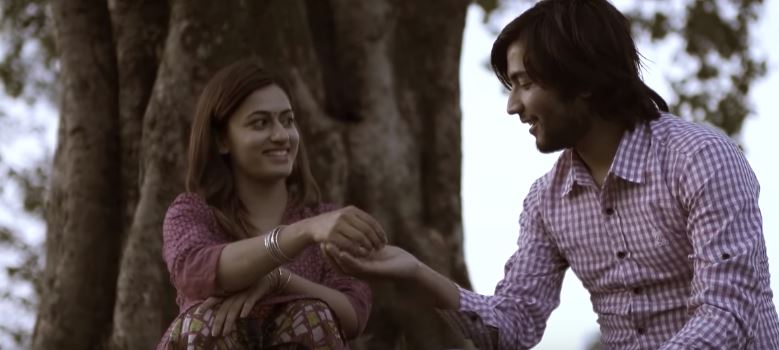 Kina Phul Chudera is a new sentimental modern song by Gangaram Acharya. The music video features Surakshya Panta and Chiran Adhikari. Kina Phul Chudera is a modern song which is directed by Suman Ghimire. The music video was cinematographed by Rameshwor Karki & Team and was edited by Nishan Ghimire.
The lyrics as well as music for this song was composed by Manoj Raj and music video was arranged by Yakub Rai. This music video features versatile actress Surakshya Panta. She has dubted from movie Dhanapati and was successful to gain the love from thousand of Audience. The vocal for this song was given by singer Gangaram Acharya. Kina Phul Chudera is heart touching music video which want to deliver the message that in love we must be happy to scarifies our love rather than to separate from each other. This music video was presented by Gangabahadur Acharya. When you once listen this song, I am sure you will keep tuning it.
The music video is released officially online by HighlightsNepal via Youtube. Hope that you will enjoy this melodious sentimental song Kina Phul Chudera.
Here is the lyrics for Kina Phul Chudera:
Kina phul chudera lagis daiba
Yeha maali Ekalai hune bho

Kina phul chudera lagis daiba
Yeha maali Ekalai hune bho
Sojho mutu lai thagis daiba
Ashule sara sansar dhune bho
Sojho mutu lai thagis daiba
Ashule sara sansar dhune bho
Autai chhahana theyo
Jiune bhahana theyo
Autai chhahana theyo
Jiune bhahana theyo
Tyo pani tada bhaya pachhi
Aba ke ke yaha hune bho
Aba ke ke yaha hune bho….

Aakha ko sapana aakhai
Ma Roke theyo

Aakha ko sapana aakhai
Ma Roke theyo mutuko bedhana
Mutu mai Chhope theyo
Kaile bara lautheyo
Kale pani haltheyo
Phula kai sahar ma
Aafai lai galthyau
Kaile bara lautheyo
Kale pani haltheyo
Phula kai sahar ma
Aafai lai galthyau
Yesto perati aja
Chutada duniya majhaa
Yesto perati aja
Chutada duniya majhaa
Jindagi nai aadhi bhaye pachi
Aba k k yaha huna ho
Aba k k yaha huna ho….

Laijane bhaye ta
Duetai lai lagi dau

Laijane bhaye ta
Duetai lai lagi dau
Kakha pakah gari
Yesto na thagi dau
Mangale haina
Muna madan haena
Rudai sahi basne
Usko mann haena
Mangale haina
Muna madan haena
Rudai sahi basne
Usko mann haena
Ki ta pagal banaede
Ki ta maya pharkae de
Ki ta pagal banaede
Ki ta maya pharkae de
Tadpayerai chadi diye pachi
Aba k k yaha huna ho
Aba k k yaha huna ho…………