Kina Royou (Chulesima) By Sanjeev Singh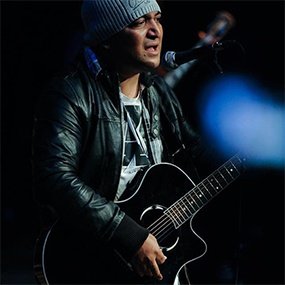 Kina Royou (Chulesima) is a new pop song by Sanjeev Singh. This song, Kina Royou (Chulesima) was full with emotional and deep meaning of lyrics. From this song the singer Sanjeev tries to explain the love towards his partner.
The lyrics for the song was written by Sanjeev Singh. The singer Sanjeev is one of the well known singer in the music industry. He gives lots of his creations to his fan followings. In this song he is asking to his girlfriend why it she left him and why she failed to understand him. Sanjeev began his musical career as a bar singer at a tender age of 14 singing along with senior bands like Rodi and Madan Singh Nepali in five star hotels. His childhood was spent in his maternal grandparents' home where he used to learn music with his uncles who were senior musicians in Nepal.When you once listen this song, I am sure you will keep tuning it.
The music video released officially online by jotiraj1 via Youtube. Hope that you will enjoy this melodious pop song Kina Royou (Chulesima).
Here is the lyrics for the song:
Kin royou bhan timi
Manako balesimaa
kin raakhyou chokho
Mutu tikho chulesima
la……la………………
la……la………………

Kasto chot paryo bhan
Kasko manama paryo
Timraa nishchal aankha bhitra
Kasko byatha saryo
Kin bagyou aaj timi
Manako kulesima
Kin raakhyou chokho
Mutu tikho chulesima
la……la………………
la……la………………

Kati ghumti aaphnai laagthyo
Kati timrai jastai
Kati triShna timrai laagthyo
Kati merai jastai
Kin bhaagyou taaDhaa taaDhaa
Eklai behoshimaa
Kin raakhyou chokho
Mutu tikho chulesima
Kin raakhyou chokho
Mutu tikho chulesima
la……la………………
la……la………………