Lakhau Janma by Rajesh Payal Rai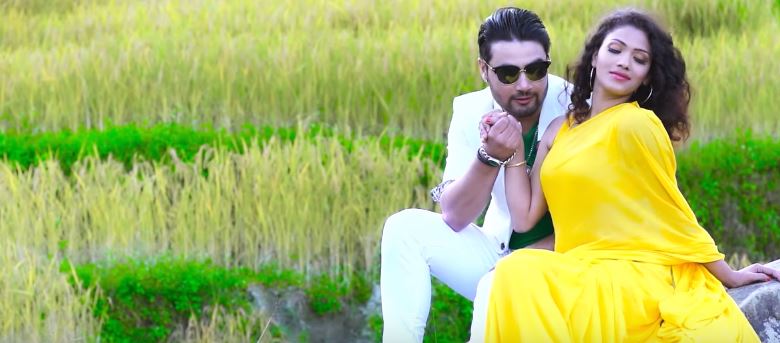 Lakhau Janma is a Nepali aadhunik song by Rajesh Payal Rai. The music video features Yograj and Mamata is directed by Yubraj Waiba. This music video was edited by Nishan Ghimire and cinematographed by Utsav Dahal.
The music for the song was composed by Samip and lyrics was written by Karki Sir. In this music video, artists Yograj and Mamata have given their best performance and make this music video awesome. The vocal was given by multi talented, gorgeous well known singer Rajesh Payal Rai. In this music video, Yograj and Mamata are praying to the God for their relation. They don't believe in next generation, they want to stay with full of love and happiness in this generation. The music video is Post production by Karki Entertainment. When you once listen this song, I am sure you will really enjoy it.
The music video is released officially online by SongsNepal via Youtube. Hope that you will enjoy this modern song Lakhau Janma.
Here is the lyrics for Lakhau Janma:
Lukayera Rakheko timile
Pathaya ko chithi

Lukayera Rakheko timile
Pathaya ko chithi
Aamai le bhetin
Padera sodhin k yestai
Maya garcha bhani
Maela ni bhane
Yo ta k ho ra
Yo bhanda dherai garcha bhani
Bolae papa lai
Jurae lagan na sodhi timilai
Na sodhi malae
Ma bhaye pagal khusi le
Lina ma aaye timilai
Lina ma aaye timilai…..

Timi arkai jhat ko re
Ma arkai jhat ko re
Bhantheya sab le
Milan hunna bhani
Maya ho puja
Puja ma dhoka
Garnu hudaina aama le bhane
Samajha ni base
kura ni kase
Bhayo akhir ma
Maya kai jita
Na tutado rayecha
Na chutado rayecha
Jiban ma laye hai sacho preet
Lukayera Rakheko timile
Pathaya ko chithi….

Ko sano thulo
K bhada bahda
Yekai ho hami
Bharam ho sabai

K pir manchau k surtha garchau
Chadai chau ni hami dubai
Dui dina chola
J hola hola
Ajai ghar jam garum la
Sang sangai jiula
Ashu ni piula
Mann pare sagai marum la
Lukayera Rakheko timile
Pathaya ko chithi…………