Lau Aakha Bhijyo By James Pradhan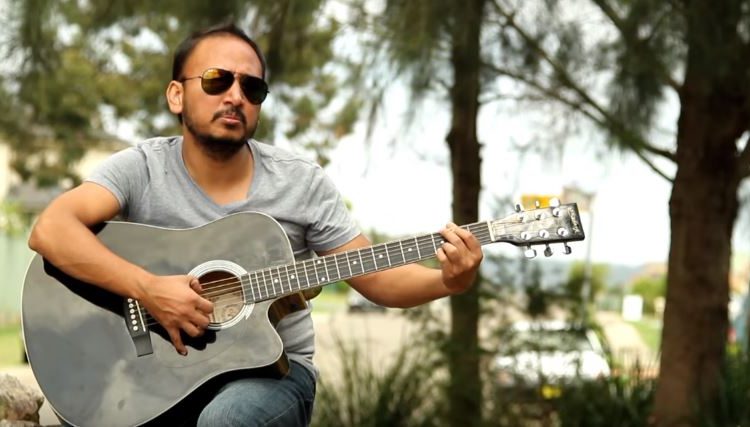 Lau Aakha Bhijyo is Nepali pop song by James Pradhan. This melodious song is from James one of the popular album "Aawaaz". Lau Aakha Bhijyo is a Nepali song which is directed by James Pradhan. The music video was edited by Max Thapa and cinematography was done by Deepesh Shrestha.
The lyrics and music of this song is composed by James Pradhan himself. The song is heart touching because of its lyrics and the melodious solo music of guitar. I can guarantee that if you guys once listen to this song you will be satisfied from your heart and you will feel like the song is made for you. The music video was post production by Music works Pvt. Ltd. You can enjoy the song from here:
The music video is released officially online by Jems Pradhan via Youtube. Hope that you will enjoy this Melodious romantic song Lau Aakha Bhijyo.
Here is the lyrics for the song Lau Aakha Bhijyo:
Lau ankha vijyo mero
Chitta nadukhau hai
Chhodi jana nakhoja
Pachhutaula hai
Bachan kada vo tmro
Parda hatau hai
Bachhne ichhya naluta
Sangali rakha hai
Lau ankha vijyo mero
Chitta nadukhau hai
Chhodi jana nakhoja
Pachhutaula hai
Bachan kada vo tmro
Parda hatau hai
Bachhne ichhya naluta
Sangali rakha hai

Badalule charai tira
Chhopeo ki katai tmilae
Pani bani barsideu
Dhartima sita sadhailae
Birsideu biteka ti
Kuraharu sapana samjhi
Mutu futla jasto vayo
Byabahar nagara asari

Bachhana garo ho malae
Samhali rakha hai
Jiudo chhada chhadai pani
Malae namara hai
Bachan kada vo tmro
Parda hatau hai
Bachhne ichhya naluta
Sangali rakha hai
Ichhya namara hai
Pachhutaula hai