Maaf Gara by Rajkumar Devkota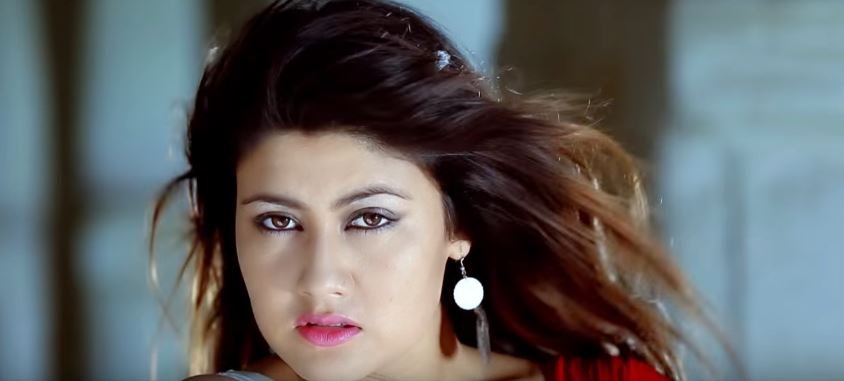 Maaf Gara is a new aadhunik melodious Nepali pop song by Rajkumar Devkota. The music video features by Sampada Baniya, Dilip & Rajkumar. Maaf Gara is a Nepali song by Rajkumar Devkota which is directed by Sher Bahadur DC. Maaf Gara music video was edited by Suresh Raut and music video was cinematographed by Ajay Regmi.
The music of this song is composed by Dilip KC and lyrics of this song was written by Dilip KC. The music video is featuring by versatile hot model Sampada Baniya. Sampada Baniya is a one of the established hot and sexy model of Nepali music video Industry. Maaf Gara is a aadhunik pop song in which Dilip has apologize with Sampada that he can't take part in Sampada marriage due to pain. Maaf Gara music video was choreographed by Smirti Timalsina. When you once listen this song, I am sure you will keep repeating it.
The music video is released officially online by Music Nepal via Youtube. Hope that you will enjoy this melodious song Maaf Gara.
Here is the lyrics for the song:
Maaf gara timro nimto
Ma auna sakina
Maaf gara timro nimto
Ma auna sakina
Parae ko angalo ma
Timilai hernai chaena
Maaf gara timro nimto
Ma auna sakina…

Hami majha kina garo bhayo
Timila diyeko maya udharai rayo
Hami majha kina garo bhayo
Timila diyeko maya udharai rayo
Aru koe timilai ajha
Piyaro bhayo Piyaro bhayo
Aru koe timilai ajha
Piyaro bhayo Piyaro bhayo
Maaf gara timro nimto
Ma auna sakina…

Jani jani dhuniya hasae gayau
Timrai jit bho
Malae harae gayau
Jani jani dhuniya hasae gayau
Timrai jit bho
Malae harae gayau
Tai jitnai timilai mero
Uphara bhayo upahar bhayo
Tai jitnai timilai mero
Uphara bhayo upahar bhayo
Maaf gara timro nimto
Ma auna sakina…………