Mahindra Scorpio Pickup Review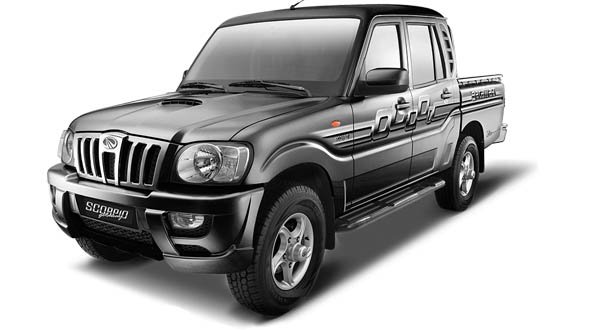 The Mahindra Scorpio Getaway (known as Pickup in Nepal) is a pickup truck which was built on the platform of its SUV car, Mahindra Scorpio. Mahindra, by focusing the young people, has added the deck in the car that helps the passengers to carry all of their important things. And Mahindra, though it's a pickup car, has not compromised with the design. The car still looks luxurious and stylish.
Furthermore, Mahindra also has not ignored the security part of the car. The Mahindra Scorpio Getaway is featured with globally certified features like crash protection crumple zones, child lock, collapsible steering and side intrusion beams. Beside these features, the car features extra features like voice assistance system, and remote locking and unlocking of the vehicle.
Moreover, Mahindra has been exporting 3 variants of the Mahindra Scorpio Getaway in Nepal under the dealership of Agni Inc. which is also looking after the sales and service of Mahindra's cars.
Price in Nepal: Rs. 3,145,000 (For Pickup D/C MHawk 2.2 2WD),
Rs. 3,500,000 (For Pickup D/C MHawk 2.2 4WD),
Rs. 3,655,000 (For Pickup D/C MHawk 2.2 4WD with ABS and AB)
Specifications
Dimension:
| | |
| --- | --- |
|  Body Type |  Pick-up Truck |
|  Basic Weight |  NA |
|  Length |  5098 mm |
|  Height |  1874 mm |
|  Wheelbase |  3040 mm |
|  Front Track |  NA |
|  Rear Track |  NA |
|  Ground Clearance |  180 mm |
Engine:
| | |
| --- | --- |
| Fuel Tank |  80 liters |
|  Cylinders |  4 |
|  Valves Per Cylinder |  2 |
|  Displacement |  2609 cc |
|  Max Power |  115 bhp |
|  Max Torque |  277 Nm |
Dynamics:
| | |
| --- | --- |
| Front Brakes |  Disc (MHawk 2.2 2WD), Discs and Calliper (MHawk 2.2 4WD / MHawk 2.2 4WD with ABS and AB) |
| Rear Brakes |  Drum |
| Front Wheels |  NA |
| Rear Wheels |  NA |
| Front Suspensions |  Double Wishbone with Torsion Bar |
| Rear Suspensions |  Semi-Elliptical Leaf Spring with Stabilizer Bar (MHawk 2.2 2WD), Semi-Elliptical Leaf Spring with Double Acting Hydraulic Shock Absorber and Stab Bar (MHawk 2.2 4WD / MHawk 2.2 4WD with ABS and AB) |
Transmission:
| | |
| --- | --- |
|  Transmission |  Manual |
|  Number of Gears |  5 |