Maile Herne Eauta Tara by Amrit Chhetri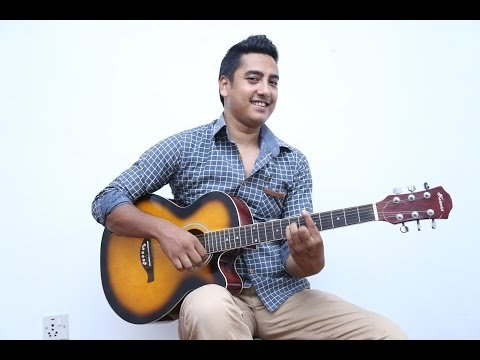 Maile Herne Eauta Tara is a Nepali pop song from album "Arrival". Mr. Amrit Chhetri  give his melodious voice to this song. Maile Herne Eauta Tara Nepali pop song by Amrit Chhetri which is directed by Alok Nembang. This music video was cinematographed by Dhiraj Shah.
The lyrics for the song was written by Amrit Chhetri and music was composed by Amrit Chhetri himself. The music video shows the love of one lover who is unable to find his girl.  He loved her very much but unfortunately she died with some reason. He compare her death with flower and falling stars. This song is sang very beautifully and the lyrics was selected in such a way that they directly pinch our heart. Maile Herne Eauta Tara music video was based on love. This music video was edited by Milan Ratna Bajrachrya and post production by Namaste vision. When you once listen this song, I am sure you will keep tuning it.
The music video is released officially online by Music Nepal via Youtube. Hope that you will enjoy this romantic and melodious pop song Maile Herne Eauta Tara.
Here is the lyrics for the song Maile Herne Eauta Tara:
He he he la la la
Maile herne auta tara
Tutyo aja rati
Maile herne auta tara
Tutyo aja rati
Lakhau tara akasama
Lakhau tara akasama
Chhuteo man ko sathi
Chhuteo man ko sathi
Maile herne……………….

Aayeu mero jindagima
Naulo umanga lyaeu
Mero harek paila vari
Khusiyali chhaeu
Charai dinako khusi dieu
Charai dinako khusi dieu
Jhuto maya gasera
Jhuto maya gasera
Maile maya garne manchhe
Gaeu maya sati
Hajarau vete maya dine
Hajarau vete maya dine
Chhuteo mako sathi
Chhuteo mako sathi

Kina roje maile tmlae
Duniyalae vulera
Tmro maya tmrai nam
Yo mutuma korera
Gaeu kaha yo mutulae
Gaeu kaha yo mutulae
Chhiya chhiya parera
Chhiya chhiya parera
Maile chaheko auta fula
Kasle rojyeo sathi
Saeu fula bagaichama
Saeu fula bagaichama
Chhuteo manko sathi
Chhuteo manko sathi
Maile herene auta tara……………….