Man Ta Nepali by Preeti Ale Magar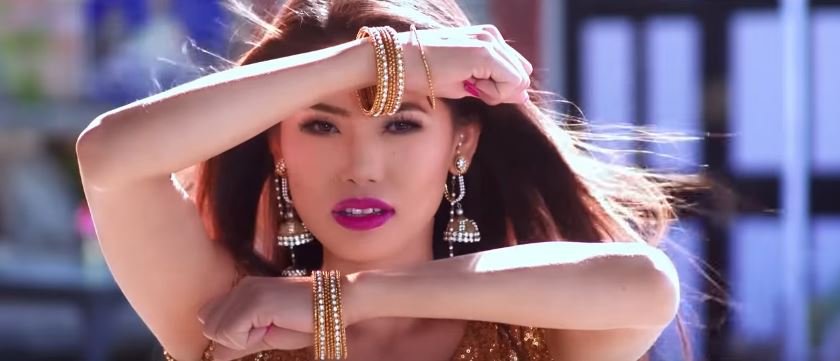 Man Ta Nepali is New Nepali Romantic Aadhunik pop song by Preeti Ale Magar. The music video features by Anita Limbu. Man Ta Nepali is a Nepali song by Preeti Ale Magar which is directed by Nikesh Khadka. Man Ta Nepali music video was edited by Bikash Dhamala and music video was cinematographed by Utsav Dahal and Manoj Gurung.
The music of this song is composed by Ashusen Lama and lyrics of this song was written by Ashusen Lama himself. The music video is featuring by hot model Anita Limbu. Anita Limbu has a tag of hot and sexy model in Nepali music video industry. Maan Ta Nepali is a song which shows norms and value, Tradition, Religion etc of Nepali society. And also explain the adverse effect of western culture in Nepali society. When you once listen this song, I am sure you will keep repeating it.
The music video is released officially online by SongsNepal via Youtube. Hope that you will enjoy this pop Song Maan Ta Nepali.

Here is the lyrics for the song:
Kaliyug ki chori
Ma ta Kaliyug ki re
Kaliyug ki chori
Ma ta Kaliyug ki re
Aamai le bhanchin
Mero fariya choto bho re
Baba la bhanchan
Guneu choli bhulau re
Ori pari sable
Mero kura gardai chan re
Koe ta holan malae
Bhujhana manche re
Jaha heri j ma heri
Jaha heri j ma heri
Gorkhali ki chori
Mero Man Ta Nepali
Mero Man Ta Nepali
Mero Man Ta Nepali
Mero Man Ta Nepali
Mero Man Ta Nepali
Mero herai Nepali…

Rudi badhi mandina ma ta
Lapan chapan jandina
Naya yug ki chori hu
Ta ra afno sansar bhuldina
hooo
Rudi badhi mandina ma ta
Lapan chapan jandina
Naya yug ki chori hu
Ta ra afno sansar bhuldina
Auta la bancha
Mero fariya choto bho re
Arko la bhancha
Guneu choli bhulau re
Jaha heri j ma heri
Jaha heri j ma heri
Gorkhali ki chori
Mero Man Ta Nepali
Mero Man Ta Nepali
Mero Man Ta Nepali
Mero Man Ta Nepali
Mero Man Ta Nepali
Mero herai Nepali…
Paeran mero bidesh hola
Desh kai maya sachi cha
Basuri ra damphu ko tal ma
Ajai kamar bachi cha
hoo
Paeran mero bidesh hola
Desh kai maya sachi cha
Basuri ra damphu ko tal ma
Ajai kamar bachi cha
Aamai le bhanchin
Mero fariya choto bho re
Baba la bhanchan
Guneu choli bhulau re
Ori pari sable
Mero kura gardai chan re
Koe ta holan malae
Bhujhana manche re
Jaha heri j ma heri
Jaha heri j ma heri
Gorkhali ki chori
Mero Man Ta Nepali
Mero Man Ta Nepali
Mero Man Ta Nepali
Mero Man Ta Nepali
Mero Man Ta Nepali
Mero herai Nepali………