Marubhumi by Ram Pukar Yadav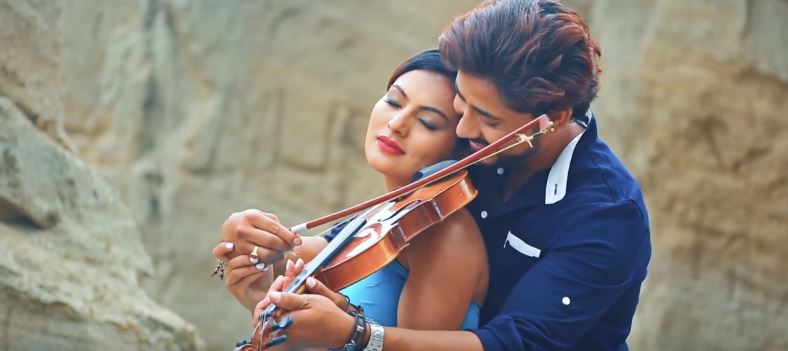 Marubhumi is a new melodious aadhunik song from album "MARUBHUMI". The music video features Supriya Katuwal, Keshav G.C and Naren Khadka. Marubhumi is a Nepali song by Ram Pukar Yadav which is directed by Saman Adhikari. This music video was edited by Bikash Dhamala and cinematographed by Dipendra Thapaliya.
The music for this song is composed by Narahari Premee and lyrics was written by Hemanta Acharya Chhetri. Supriya Katuwal and Keshav G.C are two talented artist who has given amazing act. Marubhumi music video shown the actual meaning for relation of love. This song deliver the message that don't keep asking why people keep hurting you, ask yourself why are you allowing it to happen. This song provides the positive thought in your mind. The music video was presented by Rescue Creations. When you once listen this song, I am sure you will keep repeating it.
The music video is released officially online by SongsNepal via Youtube. Hope that you will enjoy this melodious aadhunik song Marubhumi.

Here is the lyrics for Marubhumi:
Marubhumi bagarai ma
Paani bhetiyena

Marubhumi bagarai ma
Paani bhetiyena
Jati aashu piye pani
Trikha metiyena
Marubhumi bagarai ma
Paani bhetiyena……

Besai piya huntheyo basa
Bherthai piye aashu
Sunna sunna lagcha jiwan
k ko lagi bachhu

hoo Besai piya huntheyo basa
Bherthai piye aashu
Sunna sunna lagcha jiban
k ko lagi bachhu
Sarangi jhai chinau jiban
Retada rateyena
Marubhumi bagarai ma
Paani bhetiyena……

Lagna thalyo jiban dhekhi
Afai lai nai ghrida
Sapana ko mahal pani
Bani gayo jhida

hoo
Lagna thalyo jiban dhekhi
Afai lai nai ghrida
Sapana ko mahal pani
Bani gayo jhida
Ishwor huncha bhanya
Suntheya khojhada bhetiyena
Jati aashu piye pani
Trikha metiyena
Marubhumi bagarai ma
Paani bhetiyena

Marubhumi bagarai ma
Paani bhetiyena
Jati aashu piye pani
Trikha metiyena
Marubhumi bagarai ma
Paani bhetiyena…………