Maruti Suzuki S-Cross Review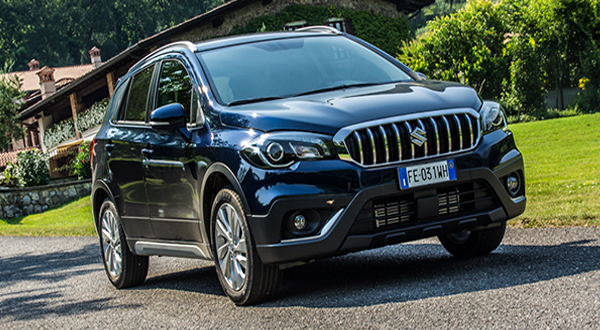 The Maruti Suzuki S-Cross, also called SX4 in past, is a compact SUV car manufactured mutually by Suzuki and Fiat, a Japanese and an Italian manufacturers respectively. The Suzuki S-Cross, likely to other cars, has passed two generational changes. The first generation of S-Cross came into production from the year 2006 to 2014 and used to be produced as a sedan and a hatchback car.
In the year 2012, Suzuki released the concept of second gen Suzuki S-Cross at Paris Motor Show as a forthcoming car. Later in the year 2013, Suzuki unveiled the design of new S-Cross at Geneva Motor Show. The new gen S-Cross was made bigger than its predecessor in all aspects. The new S-Cross features length and height of 4300 mm and 1590 mm respectively. The front tires and the rear tires are separated 2600 mm away from each other.
In Nepal, Suzuki has been exporting 7 different variants of the S-Cross under the dealership of CG Nxt Gen.
Price in Nepal: Rs. 3,899,000 (For S-Cross Sigma 1.3 Diesel),
Rs. 4,299,000 (For S-Cross Delta 1.3 Diesel),
Rs. 4,499,000 (For S-Cross Zeta 1.3 Diesel),
Rs. 4,899,000 (For S-Cross Alpha 1.3 Diesel),
Rs. 5,599,000 (For S-Cross Delta 1.6 Diesel),
Rs. 5,899,000 (For S-Cross Zeta 1.6 Diesel),
Rs. 6,199,000 (For S-Cross Alpha 1.6 Diesel)
Specifications
Dimension:
| | |
| --- | --- |
|  Body Type |  SUV |
|  Basic Weight |  NA |
|  Length |  4300 mm |
|  Height |  1590 mm |
|  Wheelbase |  2600 mm |
|  Front Track |  NA |
|  Rear Track |  NA |
|  Ground Clearance |  180 mm |
Engine:
| | |
| --- | --- |
| Fuel Tank |  48 liters |
|  Cylinders |  4, Inline |
|  Valves Per Cylinder |  4, SOHC |
|  Displacement |   1248 cc |
|  Max Power |  89 bhp @ 4000 RPM (S-Cross Sigma 1.3 Diesel / S-Cross Delta 1.3 Diesel / S-Cross Zeta 1.3 Diesel / S-Cross Alpha 1.3 Diesel), 118 bhp @ 3750 RPM (S-Cross Delta 1.6 Diesel / S-Cross Zeta 1.6 Diesel / S-Cross Alpha 1.6 Diesel) |
|  Max Torque |  200 Nm @ 1750 RPM (S-Cross Sigma 1.3 Diesel / S-Cross Delta 1.3 Diesel / S-Cross Zeta 1.3 Diesel / S-Cross Alpha 1.3 Diesel), 320 Nm @ 1750 RPM (S-Cross Delta 1.6 Diesel / S-Cross Zeta 1.6 Diesel / S-Cross Alpha 1.6 Diesel) |
Dynamics:
| | |
| --- | --- |
| Front Brakes |  Disc |
| Rear Brakes |  Drum |
| Front Wheels |  205 / 60 R16 |
| Rear Wheels |  205 / 60 R16 |
| Front Suspensions |  McPherson Strut with Coil Spring |
| Rear Suspensions |  Torsion Beam with Coil Spring |
Transmission:
| | |
| --- | --- |
|  Transmission |  Manual |
|  Number of Gears |  5 (S-Cross Sigma 1.3 Diesel / S-Cross Delta 1.3 Diesel / S-Cross Zeta 1.3 Diesel / S-Cross Alpha 1.3 Diesel), 6 (S-Cross Delta 1.6 Diesel / S-Cross Zeta 1.6 Diesel / S-Cross Alpha 1.6 Diesel) |