Maya Ko Artha by Nischal Lama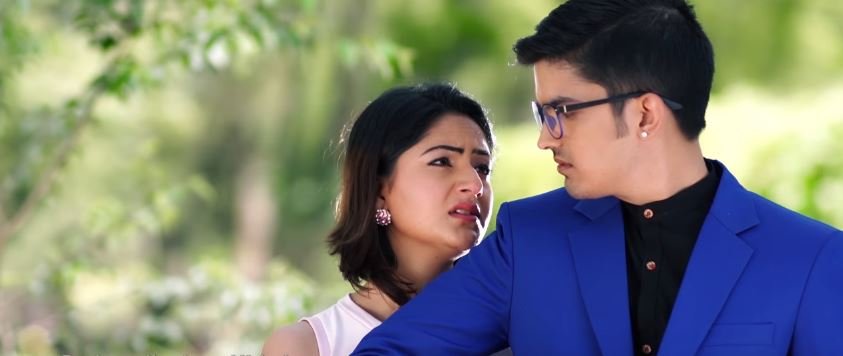 Maya Ko Artha is a new Nepali Aadhunik Song by Nischal Lama. The music video features Ranjan, Saurav and Barsha Shiwakoti. Maya Ko Artha is a Nepali song by Nischal Lama which is directed by Subrat Raj Acharya. Maya Ko Artha music video was edited by Bharat Regmi and music video was Cinematographed by Arjun Tiwari & Team.
The music of this song is arranged by Purusottam Neupane and lyrics of this song was written by Arun Tiwari. The music was composed by Bikram Thapa. The music video is featuring by versatile actress Barsha Shiwakoti. Nepali actress and model Barsha Siwakoti has established herself as a successful model in Nepali music video. Maya Ko Artha is a aadhunik song. The producer of this music video is Kris Lama and Usha Lama. In this song, we can see that Barsha is searching the actual meaning of love. Moreover, this song shows that the relation of friend is greater than lover because the friend never hurt and plays with the feeling of another friend but lover may plays with the emotion and feeling of this lover which have shown in this music video. When you once listen this song, I am sure you will keep repeating it.
The music video is released officially online by HighlightsNepal via Youtube. Hope that you will enjoy this sentimental aadhunik song Maya Ko Artha.

Here is the lyrics of Maya Ko Artha by Nischal Lama:
Maya Ko Artha milan nai ho
Bhane jiwan ma bhana sathi
Bichod kina huncha
Maya Ko Artha milan nai ho
Bhane jiwan ma bhana sathi
Bichod kina huncha
Mann le manparaunu mann
Kai dhosa bhaye tyo bhula ma
Bhana sathi aakha kina runcha
Tyo bhula ma Bhana
Sathi aakha kina runcha…

Sabai kura bhujha pani
Kae bhujhana baki jasto
Barsad ma rujha pani
Ajai rujhanu cha jasto
Sabai kura bhujha pani
Kae bhujhana baki jasto
Barsad ma rujha pani
Ajai rujhanu cha jasto
Sapana ta akhi pheri
Tutana ko lagi ta ho
Tara aakha le bhana sathi
Tyo jhalo kina huncha
Tara aakha le bhana sathi
Tyo jhalo kina huncha
Maya Ko Artha milan nai ho
Bhane jiwan ma bhana sathi
Bichod kina huncha…

Dherai tadha huda pani
Najik najik bhaye jasto
Na bolaki bhaye pani
Sadhai baata gare jasto
Dherai tadha huda pani
Najik najik bhaye jasto
Na bolaki bhaye pani
Sadhai baata gare jasto
Satha ta aakhir chutana
Ko lagi ta ho
Tara mutu le bhana sathi
Tyo mutu kina chuncha
Tara mutu le bhana sathi
Tyo mutu kina chuncha

Maya Ko Artha milan nai ho
Bhane jiwan ma bhana sathi
Bichod kina huncha
Mann le manparaunu mann
Kai dhosa bhaye tyo bhula ma
Bhana sathi aakha kina runcha
Tyo bhula ma Bhana
Sathi aakha kina runcha
Maya Ko Artha milan nai ho Bhane……