A Mero Mama by Sanjeev Singh Rana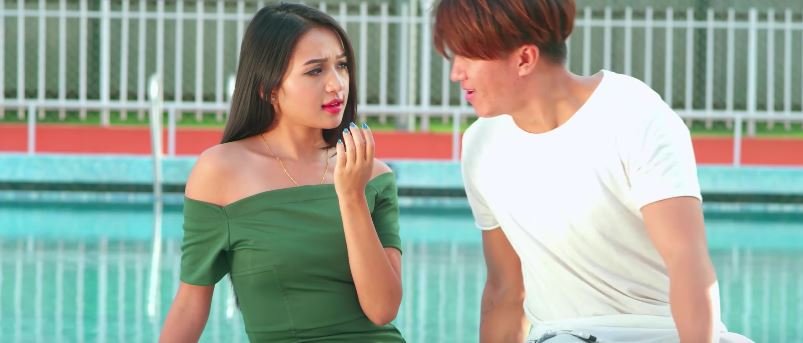 A Mero Mama is a new romantic Nepali song by Sanjeev Singh Rana. The music video features Strukpop  and Alisha Rai. A Mero Mama is a Nepali song which is directed by Tekendra Shah. The music video was edited by Tekendra Shah and was cinematographed by Ram Kumar K.C.
The lyrics and music for this song was composed by Sanjeev Singh Rana and music video was arranged by Ashish Aviral. The music video features versatile actress Alisha Rai. She has appeared in numerous music videos, television commercials, print ads and some of Nepali movies. In this music video, the hot model Alisha Rai has given her outstanding performance with dance group Strukpop. Sanjeev Singh Rana has added his sweet voice to make this song more melodious. When you once listen this song, I am sure your body will start moving.
The music video is released officially online by Highlights Nepal via Youtube. Hope that you will enjoy this melodious song A Mero Mama.

Here is the lyrics for A Mero Mama:
A Mero Mama A Mero Mama
A Mero Mama A Mero Mama

A Mero Mama phul bute jhama
Kindiula gori lai
Nakali mori lai
Nakali mori lai

A Mero Mama phul bute jhama
Kindiula gori lai
Nakali mori lai
Luki luki herna bani parako
Bani parako
Badhalu sareko pani pareko
Badhalu sareko pani pareko
Badhalu sareko pani pareko……..

Kati aaye kati gaye
Hajarau hajar ma

Kati aaye kati gaye
Hajarau hajar ma
Timi jasti ramri
Chaena yo najar ma
Hey jaula ni ramae ramae
Mero haat samae
Gadi chalaudai mugalin
Ko bato ma dhulo udhaudai
Mugalin Ko bato ma dhulo udhaudai
Mugalin Ko bato ma dhulo udhaudai…..

Juni juni maya
Ma timilai garchu

Juni juni maya
Ma timilai garchu
Timi bhanchau bhane
Chati chiri ma dhekhauchu
Satya kasam dhatya haina
Jhuto bolna janya chaena
Gadi chalaudai
Pokhara ko bato ma
Dhulo udhaudai
Pokhara ko bato ma
Dhulo udhaudai
Pokhara ko bato ma
Dhulo udhaudai

A Mero Mama phul bute jhama
Kindiula gori lai
Nakali mori lai
Luki luki herna bani parako
Bani parako
Badhalu sareko pani pareko
Badhalu sareko pani pareko
Badhalu sareko pani pareko
Muglin ko bato ma chata odheko
Badhalu sareko pani pareko
Muglin ko bato ma chata odheko
Pokhara ko bazar ma sangai ghumeko……………