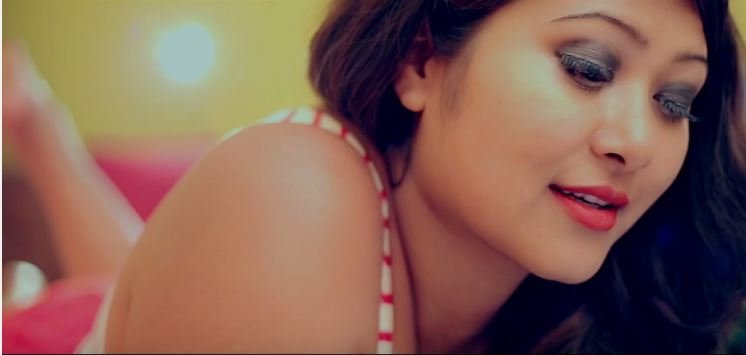 Mero Maya is a New Melodious Romantic Aadhunik Pop Song by Roshan, Aakash and Sonam. The music video features actress Amita Chantel. Mero Maya is a Nepali song by Roshan, Aakash and Sonam which is edited by Santosh Chhetri.
The music of this song is composed by Manoj Khadka and lyrics of this song was written by Aakash Bhandari. Mero Maya music video is cinematographed by Santosh Chhetri. When you once listen this song, I am sure you will keep repeating it. Overall, Roshan, Aakash and Sonam song Mero Maya is a nice and soothing song with great melody.
The music video is released officially online by SongsNepal via Youtube. Hope that you will enjoy this Romantic Aadhunik Pop Song Mero Maya.
Here is the lyrics for the song:
Maya timinai
Mero bachana autai sahar
Pharki aau mero
Jindagi ma
Na gara kunai bahana
Timi mero maya
Timi mero jindagi
Satha dinachu harpal
Dinachu harak khusi…

(Rap Rap…….)

Timinai timi theyau
Mero bhawisaya ra sapana ma
Timi bhayak mero jindagi ma
K theyana aru chahana
Maya timinai
Mero bachana autai sahar
Pharki aau mero
Jindagi ma
Na gara kunai bahana
Timi mero maya
Timi mero jindagi
Satha dinachu harpal
Dinachu harak khusi
Mero maya
Mero jindagi
Satha dinachu harpal
Dinachu harak khusi
Chita dhukhacha mero
Chati polcha mero
Timila diyaka ghau samjhida
Manna runcha mero
Sasha phulcha mero
Bitayaka ti pal samjhida…

(Rap Rap …)

Pura garna sakina
Diyara bacha ra
Mera kasam haru
Bhulauna sakina maela pani
Bitayaka ti pal haru
Dhodar ma theya
Theyana chahana pani
Satha dina sakina
Sakina dina khusi
Maya timinai
Mero bachana autai sahar
Pharki aau mero
Jindagi ma
Na gara kunai bahana
Timi mero maya
Timi mero jindagi
Satha dinachu harpal
Dinachu harak khusi…