Mero Rastra lai (Audio) by Sunil Giri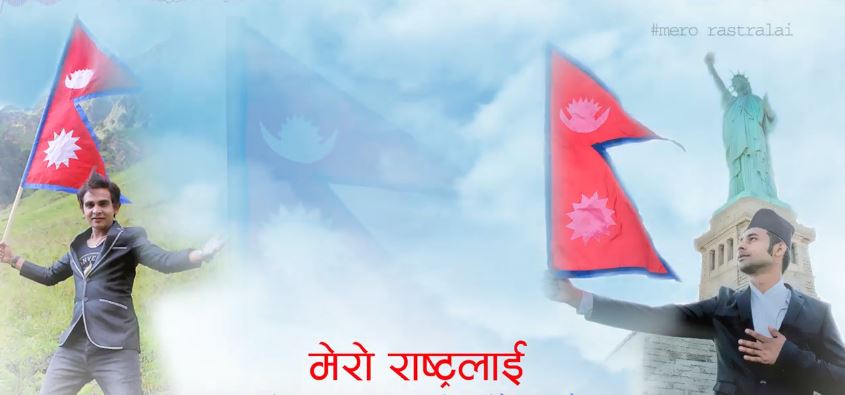 Mero Rastra lai is a New Aadhunik Melodious Nepali pop song by Sunil Giri. Sunil Giri has contributed her Melodious voice in this Nepali music video. This music video is just a simple audio version during the recording of the song.
The music of this song was composed by Sunil Giri and lyrics of this song is written by Saurav Dhal and Kalpana Kharel. Mero Rastra lai is a Patriotic song which shows the people loves towards his/her country. This song explain that even though the people goes different country for different purpose but also the last wish of them is to give their last breath in their own motherland. When you once listen this song, I am sure you will keep repeating it.
The music video is released officially online by HighlightsNepal via Youtube. Hope that you will enjoy this Melodious Patriotic pop Song Mero Rastra lai.

Here is the lyrics for the song:
Mero rastiyalai
chatti ma boki
Nepal aama lai
Pal pal dhoki
Mero janda Pharpharaudai
Santi sandesh laharaudai
Auna chu ma kunai din
Auna chu ma
Auna chu ma kunai din
Auna chu ma
Mero rastiyalai…

Yatrachha lamo mero
Desh ko nimti kae garna
Jun matho ma janma liye
Pharkina chhu tahi marna
Nepal mero janma bhumi
Ma pani timrai chora huni
Nepal mero janma bhumi
Ma pani timrai chora huni
Ma pani timrai chora huni
Mero rastiyalai…

Timrai kadha mathi taki
Sansar herna sikako theya
Nepal aama timi lai
Bacha maela garako theya
Birsana chaena kaela pani
Nepal mero ghar ho ni
Birsana chaena kaela pani
Nepal mero ghar ho ni
Nepal mero ghar ho ni
Mero rastiyalai
chatti ma boki
Nepal aama lai
Pal pal dhoki
Mero janda Pharpharaudai
Santi sandesh laharaudai
Auna chu ma kunai din
Auna chu ma
Auna chu ma kunai din
Auna chu ma
Mero rastiyalai……