Na Taanu Ta Taanu Lagne By Raju Lama (Concert Version)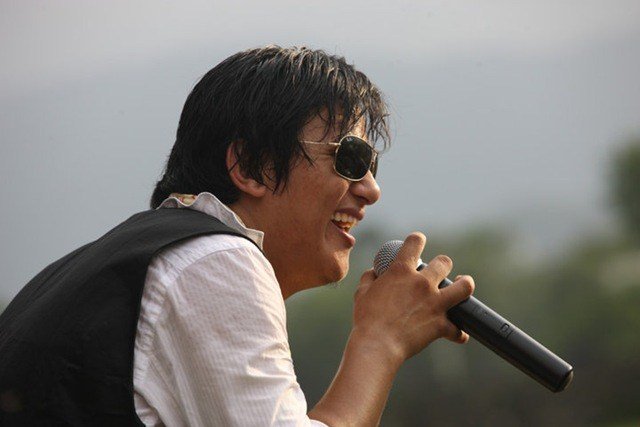 Na Taanu Ta Taanu Lagne is a Nepali Pop song by versatile singer Raju Lama who is the member of the Mongolian Heart. The song is about the local alcohol commonly called "Rakshi". In this song Raju Lama tries to express the after effect of Rakshi.
The lyrics of the song Na Taanu Ta Taanu Lagne is written by Raju Lama and the music composed by Mongolian Heart. This band is one of the well known and loved bands of its time. They perform lots of concerts nationally and internationally. The song has unique taste of music along with some traditional lyrics. In this song singer Raju is totally black out in his imagination with alcohol. And now he tries to express his feeling with lyrics and music. I suggest you guys once listen to this song and I am sure if you listen to this song you will feel goose bums in you body.
The music video is officially released online by Boby Lama via Youtube. Hope that you will enjoy this melodious song.
Here is the lyrics for the song Na Taanu Ta Taanu Lagne:
Natanu Ta Tanu Lagne, Tane Pachhi Maat Ne
Maate Pachhi Jata Sukai Ladi Badi Khelne
He Natanu Ta Tanu Lagne, Tane Pachhi Maat Ne
Maate Pachhi Jata Sukai Ladi Badi Khelne
Ke Garun Rakshi Ko Matai Yestai Ho
He Ke Garun Jadiya Ko Jatai Yesto Ho
Natanu Ta Tanu Lagne, Tane Pachhi Maat Ne
Maate Pachhi Jata Sukai Ladi Badi Khelne

Maina Kahilie Marchha Bhani Ganti Gardai Basyo
Maina Mare Pachhi Sidhai Hotel Tira Pasyo
Hotel Tira Pase Pachhi Rakshi Tanna Basyo
He Maina Kahilie Marchha Bhani Ganti Gardai Basyo
Maina Mare Pachhi Sidhai Hotel Tira Pasyo
Rakshi Le Paisa Sabai Nai Lutyo
He Rakshi Le Jivan Sabai Nai Chhusyo
La La La..
La La La..

Rakshi Dherai Tane Pachhi Jhagada Garna Uthyo
Jhagada Garna Uthyo Raji Tauko Mero Phutyo
Tauko Mero Phute Pachhi Hotel Jana Chhutyo
He Rakshi Dherai Tane Pachhi Banki Dherai Bhayo
Hotel-A Ko Sahuji Sanga Lukdai Hindna Paryo
Hotel-A Ko Sahuji Sanga Lukdai Hindna Paryo
Rakshi Le Ijjat Sarai Nai Phalyo
Rakshi Le Ijjat Sarai Nai Phalyo
He Natanu Ta Tanu Lagne, Tane Pachhi Maat Ne
Maate Pachhi Jata Sukai Ladi Badi Khelne
He Natanu Ta Tanu Lagne, Tane Pachhi Maat Ne
Maate Pachhi Jata Sukai Ladi Badi Khelne
Ke Garun Rakshi Ko Matai Yestai Ho
He Ke Garun Jadiya Ko Jatai Yestai Ho
Rakshi Le Josh-A Sarai Nai Jagyo
Rakshi Le Paisa Sabai Nai Lutyo
Rakshi Le Jivan Sabai Nai Lutyo
He Rakshi Le Ijjat Sarai Nai Phalyo
He Ke Garun Jadiya Ko Jatai Yestai Ho
He Ke Garun Jadiya Ko Jatai Yestai Ho
Ke Garun Rakshi Ko Matai Yestai Ho
He Ke Garun Rakshi Ko Matai Yestai Ho
He Ke Garun Jadiya Ko Jatai Yestai Ho
Ae