Nakaima fuli by Pusparaj Basel Ft. Swastima Khadka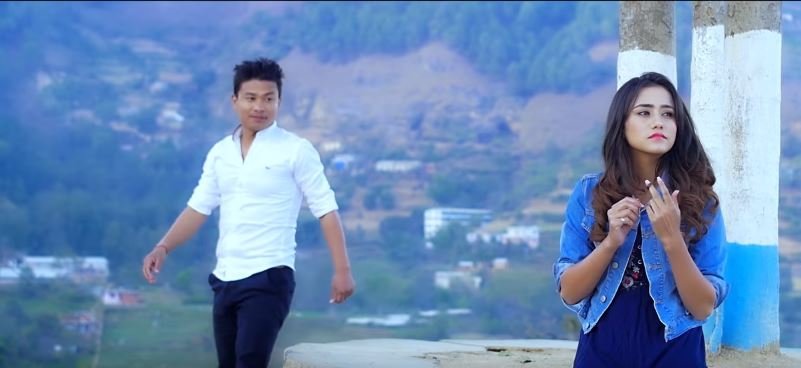 Nakaima fuli is a New Nepali Romantic Aadhunik  pop song by Pusparaj Basel. The music video features actor and actress are Winter Roka and Swastima Khadka. Nakaima fuli is a Nepali song by Pusparaj Basel which is directed by Jiwan Shahi. Nakaima fuli music video was cinematographed by Gyanendra Sharma and edited by Arjun Pokhrel.
The music of this song was composed by Sajan Rai and lyrics of this song was written by Birendra Limbu. The music video is featuring by versatile actress Swastima Khadka. Swastima Khadka is a Nepali actress and a model. She debuted from the Nepali film Hostel
 Returns. This is the romantic love story song where we can see the Swastima Khadka in new look.
The music video is released officially online by Music & Art Gallery Nepal via Youtube. Hope that you will enjoy this Melodious pop Romantic Nakaima fuli.

Here is the lyrics for the song:
Nakaima fuli
Soltini thuli
K cha ni khabara

Nakaima fuli
Soltini thuli
K cha ni khabara
Perati laudai
Sangai sangai jaula
Kathmandu sahara
Perati laudai
Sangai sangai jaula
Kathmandu sahara…

Rupai ma ramro
Soltini timro
Boli jhan mohani

Rupai ma ramro
Soltini timro
Boli jhan mohani
Lajalu timro
Najar la herau
Bhutukai paryau ni
Lajalu timro
Najar la herau
Bhutukai paryau ni
Kanai ma jhumka
Sirbandi sir ma
Balaki jhalala
Kanai ma jhumka
Sirbandi sir ma
Balaki jhalala
Perati laudai
Sangai sangai jaula
Kathmandu sahara
Perati laudai
Sangai sangai jaula
Kathmandu sahara…

Rasila otha
Baruli kammar
Herana lajhaka ki

Rasila otha
Baruli kammar
Herana lajhaka ki
Koeli jhai bhaka
Nasalu aakha
Lajhaudai Maskaki
Koeli jhai bhaka
Nasalu aakha
Lajhaudai Maskaki
Hatakai bala hos ya
Siyau jhai gala
Dantai ko lahara
Perati laudai
Sangai sangai jaula
Kathmandu sahara
Perati laudai
Sangai sangai jaula
Kathmandu sahara…

Patali mori
Jiwani pheri
Chulidai gayaki

Patali mori
Jiwani pheri
Chulidai gayaki
Herae cha simple
Galai ma dimple
Piyasa la bhareki
Herae cha simple
Galai ma dimple
Piyasa la bhareki
Gajhalu aakha
Otha ko lali
Lajhaucha najara
Gajhalu aakha
Otha ko lali
Lajhaucha najara
Perati laudai
Sangai sangai jaula
Kathmandu sahara
Perati laudai
Sangai sangai jaula
Kathmandu sahara
Perati laudai
Sangai sangai jaula
Kathmandu sahara
Perati laudai
Sangai sangai jaula
Kathmandu sahara……